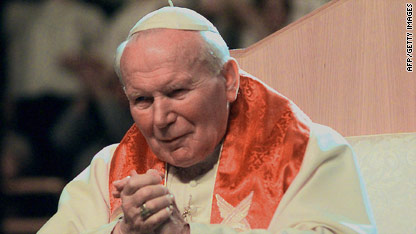 This Friday in a new musical about Pope John Paul II opens in Rome. CNN Producer Hada Messia files this report from our Rome Bureau:
Written by a priest and acted by priests, a musical dedicated to Pope John Paul II's life opens in Rome this weekend and plans on touring Italy for the rest of this year and next.
The musical, "Non Abbiate Paura" ("Don't Be Afraid"), touches on John Paul II's childhood, his early adult life living under Nazi-occupied Poland, his priesthood, and his nearly 27-year papacy. It ends with his death in 2005.
The musical's author, Father Giuseppe Spedicato, said John Paul II was a fan of the theater, having acted in plays in his youth and written more than one play. Here's what Father Spedicato said on his website, translated from the Italian:
To write a musical on Pope John Paul II, the pope that changed the world, is such a deep emotion, intense and special like the unmistakable profile of Wojtyla, the man who when young wanted to follow the great mystics, away from the clamors of the world, and who instead, once he took the chair of Peter, revolutionized the style of the pontificate: piazza, stadiums and hippodromes became the new cathedrals filled by the people.