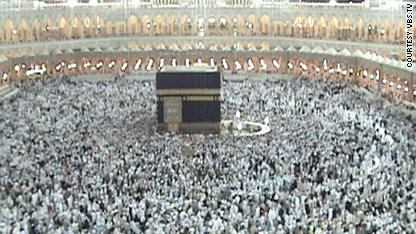 Based on the sheer volume of bodies, Hajj should not work. As the world's largest pilgrimage and one of the Five Pillars of Islam, each year about 3 million people cram themselves into the relatively small holy city of Mecca, Saudi Arabia, to offer up this, the holiest of Islamic rites. In late 2008, I accompanied my parents on Hajj and managed to sneak a VBS video camera past state security and capture the trip as we saw it. The scene was insane, beyond what I could have ever imagined.
See the video diaries and read a behind the scenes account
Editor's Note: The staff at CNN.com has recently been intrigued by the journalism of VICE, an independent media company and Web site based in Brooklyn, New York. VBS.TV is Vice's broadband television network. The reports, which are produced solely by VICE, reflect a very transparent approach to journalism, where viewers are taken along on every step of the reporting process. We believe this unique reporting approach is worthy of sharing with our CNN.com readers.