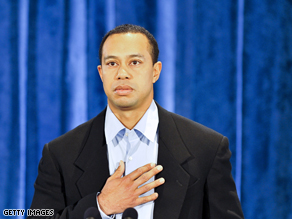 On February 19, 2010, Tiger Woods made a statement about his infidelity, and talked about a plan to heal his marriage and restore his fans' faith. While we don't know the specifics about the therapy he received, we do know that he is returning to a lifestyle that includes an observance of Buddhism. Here is what he said:
"Part of following this path for me is Buddhism, which my mother taught me at a young age. People probably don't realize it, but I was raised a Buddhist and I actively practiced my faith from childhood until I drifted away from it in recent years.
"Buddhism teaches that a craving for things outside ourselves causes and unhappy and pointless search for security. It teaches me to stop following every impulse and to learn restraint. Obviously I lost track of what I was taught."
With his past of stardom, wealth, success, and glory, can Woods commit to the principles of Buddhism? Will it help put his family and career back on track?