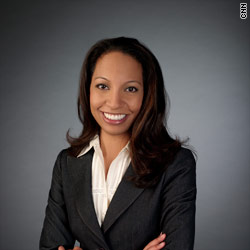 CNN's Maria Ebrahimji, who leads the network's bookings team - the folks that get folks on TV - describes herself as one of the cable channel's in-house experts on Muslim stories. She recently spoke with elan, an online magazine devoted to global Muslim youth culture, and explained how American Muslims have begun to shape the media that are responsible for shaping American views of Islam.
Check out this exchange:
What challenges do Muslims face, particularly with media representations?

... One of the biggest challenges that I have seen when I am interacting with the Muslim-American community on the media and professional level is they are just now finding their voice. It hasn't necessarily been tradition to pursue careers that are beyond the fields of science or law in these communities. Pre 9-11 you can never pursue those careers. But post 9-11 these generations realized they do have their own voice. Our parents' generations were more interested in building the American dream, and they were not concerned with how they are perceived. They were building mosques, etc. Now we feel more in tune with our American identity and Muslim identity, and the challenge continues to be brave enough and courageous enough to share those experiences with others.
It's a fascinating observation, particularly because the conversation about how Muslims are portrayed in the news media so often revolves around the same stale arguments: that the news media only cover Muslims when covering terrorism or that Muslims need more prominent moderate voices that are worthy of coverage.
Are there Muslim readers out there who personify the trend that Ebrahimji is speaking to? Are you actively working to change the image of American Muslims? If so, tell us how.