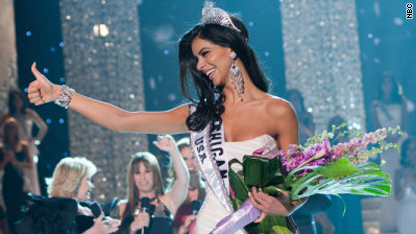 Rima Fakih, a Muslim, was crowned Miss USA last night.
With last year's pageant kerfuffle over Carrie Prejean's announced opposition to gay marriage - a position she said is grounded in her Christian faith - the Las Vegas event is now officially a staging ground  for pressing national discussions about religion in American life.
Frequently portrayed in a negative light in the media, many Muslims are embracing Fakih's crowning, an unmistakable symbol of Islam as part of the American mainstream.
There's an ironic note here: Muslims are generally socially conservative and many are uneasy with all the exposed flesh that beauty pageants entail, as the Detroit Free Press noted in a recent profile of the Dearborn-based Fakih.
In that regard, Fakih's faith community isn't very different from Prejean's. Each woman's Miss USA appearance saw modest religious folk - Muslims and evangelical Christians, respectively - standing shoulder to shoulder with Donald Trump and the Vegas crowd.
Kind of odd - and very American.