Editor's note: David Frum writes a weekly column for CNN.com. A special assistant to President Bush in 2001-02, he is the author of six books, including "Comeback: Conservatism That Can Win Again" and is the editor of FrumForum.
By David Frum, CNN Contributor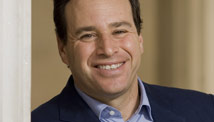 Firebombed. Cyberattacked. Attacked by a shouting mob. That's what happened to Lars Vilks in the week ending May 16.
And if you think: "Well thank goodness my week was a lot quieter," think again. The attacks on Vilks were an attack on you too.
Lars Vilks is a Swedish cartoonist. In the summer of 2007, he was invited to submit three drawings to an exhibition sponsored by the town of Tallerud. The exhibition's theme: "the dog in art." Vilks produced three pencil sketches of street dogs with human faces, the face (Vilks said) of the Islamic Prophet Muhammad.
Even if you don't know the rest of the story, you can easily imagine.