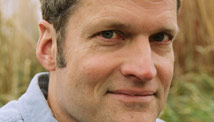 Religion scholar Stephen Prothero will be a regular contributor to CNN's Belief Blog. With his bestselling book "Religious Literacy: What Every American Needs to Know–And Doesn't," Prothero became the country's leading explainer of how religion undergirds much of American life and history - in ways that most us don't realize. With his new book, "God is Not One: The Eight Rival Religions that Run the World," the Boston University professor has taken his franchise global. A few times each week, Prothero will offer posts on the hidden faith angles behind the news.
By Stephen Prothero, CNN Belief Blog contributor
I think I might have done the math wrong.
Shortly after President Obama nominated Elena Kagan (who is Jewish) to replace Justice John Paul Stevens (who is Protestant) on the Supreme Court, I was quoted in Boston Globe, Beliefnet, and CNN stories, saying that her nomination represented one giant step away from the not-so-good-old-days of Protestant parochialism. "I don't think this means Protestant America is over," I told the AP, "but I do think it means the old way of thinking about Protestant America is over."
On Monday morning in USA Today I argued, against bloggers like Beliefnet's Rod Dreher, that the religious commitments of judges matter. I then called for a more religiously diverse Supreme Court. Why not an agnostic? An evangelical? A Muslim?
In all these articles, I was doing the math like this: 6 Catholics + 3 Jews = 0 Protestants. I'm no longer sure that's right.
Shortly after I filed my USA Today piece, I had a conversation with Nora Rubel, a University of Rochester religion professor and an observant Jew. Professor Rubel said that most Catholics in America think pretty much like most Protestants, so the Supreme Court's Protestant/Catholic mix doesn't really matter. I then observed that many Reform Jews are equally Protestantized, which led us to wonder whether the Jewish/Christian mix doesn't really matter either.
The Protestant ethos has long ruled American political institutions.  The current Congress is 55 percent Protestant, and every president except for John F. Kennedy has been an heir of the Reformation. But Protestantism also colors America's religious institutions, and not always inside the lines of Protestant denominations. 
Today many U.S. Catholics and Jews think like Protestants. They believe that religion is something we choose as individuals rather than inherit as communities, and they view it primarily in terms of faith rather than practice.  None of this comes from either the Catholic brain of Aquinas or the Jewish mind of Maimonides. The progenitor of this faith-based understanding of religion (who also happens to be the patron saint of religion rulings at the U.S. Supreme Court) is the American Protestant thinker William James, who famously defined religion as "the feelings, acts, and experiences of individual men in their solitude, so far as they apprehend themselves to stand in relation to whatever they may consider the divine."
When Supreme Court justices genuflect before this subjective understanding of religion - and most, perhaps all, of today's sitting justices do - they are thinking like Protestants.  And there is little to suggest that Elena Kagan, whose bat mitzvah occurred in a Reconstructionist synagogue in Manhattan's Upper West Side, would not go and do likewise.
So if you do the math more carefully, it may go something like this: 6 Catholics + 3 Jews = 9 Protestants.  Either way, we could use more religious diversity on the Supreme Court.
The opinions expressed in this commentary are solely those of Stephen Prothero.