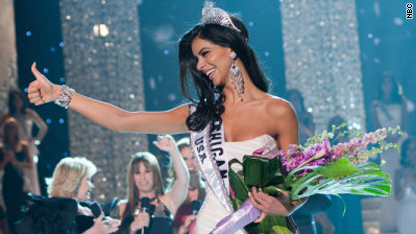 Who would have guessed that Americans would be receiving a crash course in Islam from Miss USA?
A lot of what Rima Fakih, who was crowned on Sunday, has to say about her faith counters stereotypes about Muslims. Check out what she told CNN's Octavia Nasr last night about her faith:
Fakih: During my time in Lebanon, we did not live in Southern Lebanon, we lived in the mountain area of Lebanon, which is predominantly Christian-base. That was a safe area of course because of the war and also because of the fact that the majority of my family is diverse, it's both Muslim and Christian.

CNN: So, you represent even more than the Muslim Americans, is that how you feel?

Fakih: I feel more Arab-American is the more correct name

CNN: With no religion attached?

Fakih: Religion does not identify me, I would like to say that. My family is more of a spiritual family rather than religious. We've never been religious, we've been never known to be religious, and on top of everything, we celebrate Christmas, I went to a Christian high school. We are Muslim, however, we appreciate and admire all faiths.
The takeaway: not all Muslims define themselves by their faith - some have mixed religion families and even celebrate Christmas. Has Donald Trump done more for mainstreaming American Islam than anyone in recent memory?