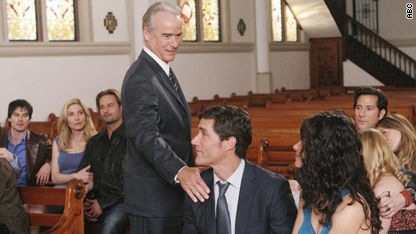 For six seasons, there was a lot on the series "Lost" that was open to interpretation. One thing pretty clear, however, was that the final moments of the series on Sunday night - with many of the characters "moving on" from a kind of purgatory inside a church - were intensely spiritual.
One man who has been interpreting the show as having a very Christian point of view is Chris Seay, pastor at Ecclesia Church in Houston, Texas, and author of the book "The Gospel According to Lost."
He believes "Lost" took a big step in a spiritual direction during a final season that saw episodes where the island was described as hell, or a gateway to hell, and a place where all the light of the world must be protected.
"I think they embraced a spiritual identity and told a spiritual story," he said. "The spiritual commentary is so rich that even 'Lost' itself commented on it, as Desmond told Kate that they were waiting on the body of a man named Christian Shephard. Her reaction was to say 'Christian Shephard? Seriously?' The finale kept it going full force in that vein."
In the finale, as Desmond was lowered down towards the "source," he faced a blinding white light, which was drained and replaced with something that can be best compared to lava from a volcano. It came across an awful lot like classical descriptions of hell.
"It fit very well with the description that Jacob gave in 'Ab Aeterno,' my favorite episode," according to Seay. "He said that the island is this cork that is holding back the forces of hell and malevolence. It was similar to what Jesus would say to Peter, that my kingdom would hold back the gates of hell."
Even though one of the closing scenes took place in a church, an array of different religious symbols could be seen on the stained glass walls there.
"Christianity has been the dominant narrative here, but I thought they might hedge their bets, and they put every religious symbol ever known to man all over the place," Seay said. "This was a deeply spiritual path to redemption. This show is saying there is a spirituality to how you live, and seeking redemption and atonement for your sins is important."
Even so, he felt "disappointed" with some of the "gaps" in the finale. "The 'flash-sideways' as purgatory felt a bit like a copout to me."
Despite this, Seay has a lot of respect for what the show accomplished.
"One of the great things about the show is it gets people reading and talking," he said. "The 'CSIs' of the world don't get you reading books to make you understand them. And unlike most feature films I've paid $10 to see, what they did was pretty remarkable."