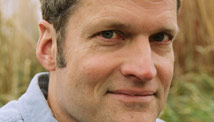 Religion scholar Stephen Prothero will be a regular contributor to CNN's Belief Blog. With his bestselling book "Religious Literacy: What Every American Needs to Know–And Doesn't," Prothero became the country's leading explainer of how religion undergirds much of American life and history - in ways that most us don't realize. With his new book, "God is Not One: The Eight Rival Religions that Run the World," the Boston University professor has taken his franchise global. A few times each week, Prothero will offer posts on the hidden faith angles behind the news.
By Stephen Prothero, CNN Belief Blog contributor
In my first CNN Belief Blog post, "Do 6 Catholics + 3 Jews = 9 Protestants?" I argued that, no matter how you do the math, we need more religious diversity on the Supreme Court. Over 700 comments flooded in, flowing in all sorts of intriguing directions. Many said we need more atheists; some said nine nonbelievers was about right. Meanwhile, "Trinity" suggested an approach apropos of his or her name:
How about 3 religious (pick your religions), 3 non-religious (atheists) and 3 indifferent (agnostics)? Sounds fair to me.
The most consistent criticism, however, was one I have heard many times before: when it comes to presidents, legislators, and Supreme Court justices, religion shouldn't matter because the work of public officials should never be influenced by personal religious commitments.
As Dave put it:
We don't need religious diversity at all. They are judges. They should decide based on the law. Their faith, if they have any, shouldn't enter in to it at all.
And Craig:
Why does the Supreme Court need to be more religiously diverse? Isn't there supposed to be separation of Church and State? The premise of the "scholar" is wrong – the Supreme Court should be religion-blind, not religion specific.
Notice the language here. When it comes to American religion and politics, I continue to be surprised at how often we get bogged down in the rhetoric of should and supposed to be: public officials are supposed to be unbiased; they shouldn't act on the basis of their private faith. This is a lovely sentiment, but it is miles removed from the real world. Here in the world of flesh and blood, each of us carries around a laundry list of biases, preferences, and interests that shape what we do 24/7. Or, as James Madison wrote in the "Federalist Papers," "As long as any connection exists between man's reason and his self-love, his opinions and passions will have reciprocal influence upon each other."
If Supreme Court justices were impersonal computers, taking in laws and facts and spitting out impartial decisions, then we would not need religious diversity on the court. We wouldn't need racial or gender or regional diversity either. Nine old white Catholic men would work just fine. Or for that matter nine young African-American Muslim women. But the world is what it is. And it is in the real world, not the world of should and supposed to, that the flawed and imperfect human beings we call justices operate.
So here is the question I would put to my critics: Are human beings creatures of objective thought, able to click their fingers and magically set aside their biases, passions and "self-love"? Or are we creatures of subjective passions whose interests should be subject to the sorts of checks and balances that Madison so vigorously defended and a diversity of experience offers?
As I wrote in my earlier USA Today piece on Elena Kagan and the mathematics of the court, I take the latter view.  "When it comes to judges and their biases, there are only two types: those who acknowledge their biases and therefore try not to succumb to them, and those who are ignorant of their biases and therefore succumb to them unwittingly."
The opinions expressed in this commentary are solely those of Stephen Prothero.