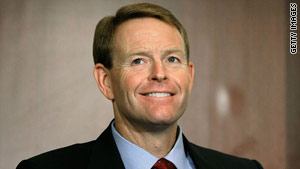 From CNN's Kelly Marshall: Hours before the Senate Armed Services Committee passed a measure Thursday that would repeal "don't ask, don't tell," a group of pastors, priests and rabbis gathered in the Capitol to encourage lawmakers to retain the ban on gays in the military.
The group opened the press conference with prayer, asking for God to bless their efforts and to soften the hearts of senators and congressmen to their position.
Family Research Council President Tony Perkins, who co-sponsored the presser, said repealing "don't ask, don't tell" could undermine the religious liberties of those serving in the military, particularly military chaplains.
"You have over 200 sponsoring organizations that may be prevented from sponsoring chaplains because they hold orthodox Christian views that will be in conflict with what the military says is stated policy," said Perkins.
"Most people don't understand the military environment," said Perkins, a retired Marine. "It's not like going to work at 8 o'clock in the morning, it's 24-7. The strains - especially right now where you have people in one enlistment doing multiple tours of duty overseas - the strain on the family, the strain on the marriages... those chaplains don't just preach, they counsel as well and we may see them forced out of the military, then who is going to be there to help those men and women who are sacrificing so much."