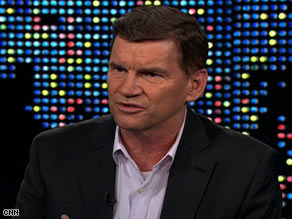 Ted Haggard, the megachurch pastor and former National Association of Evangelicals chief whose career was undone by a 2006 gay prostitution and drugs scandal, is making a major announcement from his Colorado Springs home tomorrow. From the press release his PR folks sent out today:
FORMER PASTOR OF NEW LIFE CHURCH TED HAGGARD RETURNS TO SPOTLIGHT WITH BIG NEWS ANNOUNCEMENT

Founder of the NEW LIFE CHURCH to make key declaration regarding next step in his career


WHO: TED HAGGARD, founder of the New Life Church and former leader of the National Association of Evangelists.

WHAT: TED HAGGARD will face the press and media with surprise groundbreaking announcement about his future.

WHAT ELSE: Before his resignation in 2006, Haggard led 30 million Christian Conservatives spread over 45,000 churches, until a scandal broke that changed his life forever.

Excommunicated from his church, Ted disappeared into obscurity for the next two years. Now, after three and a half years, Ted is back with a surprising announcement that he will publicly broadcast with his family Wednesday, June 2.