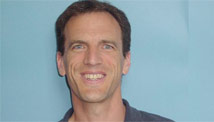 Editor's Note: Arri Eisen is a professor at Emory University.
By Arri Eisen, Special to CNN
The assignment we gave a group of three monks was to imagine a scenario and then describe how the different human organ systems might respond to that scenario. The scene is Dharamsala, India, where I and other Emory University scientists are teaching science to Tibetan monks and nuns and they're teaching Buddhism to us.
We've just spent a day teaching about the different organ systems for respiration, circulation, reproduction, etc.
Kalsang, one of 85 monks in the program, steps to the front of the class of 30 other monks and begins to describe the scenario his group came up with. It was this: they imagined they had just learned of Tibetan independence.  How would the different organ systems respond to sheer happiness?
As Kalsang continued, outlining what his group thought would happen and responding to questions by his peers, a lump formed momentarily in my throat. As had happened many times in my three years of teaching these same monks, their cultural and religious experiences - so far removed and foreign to mine - had enriched a seemingly mundane conversation on science.
Organ systems and Tibetan independence in the same breath.
This was last week, on the holiest day of the year for Buddhists - the day the Buddha was born, became enlightened, and died.
What brought me and the other scientists to Dharamsala was an idea the Dalai Lama had. He saw that science and technology are major forces in modern society. Rather than hide from or degrade new scientific discoveries, what if he created a structure that allowed Buddhism and its 20,000 monks and nuns in exile to invite science in to their monasteries and convents, to embrace, question and explore it?
That idea led to the Emory-Tibet Partnership.
The Dalia Lama's experiences with neurosciences sparked the idea. Over many years, working with many neuroscientists, he has seen how centuries-old Buddhist practices of the mind can enhance and be enhanced by the brand new science of the brain. The process led to landmark experiments on monks who have mastered the skills of meditation and mind engagement.
And it led me to a classroom listening to Kalsang and friends talk organ systems. Emory and the Dalai Lama have a grand goal of integrating modern science into the ancient curriculum of all Tibetan monks and nuns. We are raising the next crop of teachers to take over after we leave by having lay Tibetans and monks teach with us in India, study science, and teach with us at Emory. We are jointly developing texts and websites to facilitate.
Will our experiment in religion and science bear fruit? Can religion be a successful driver of positive societal change by reaching outside itself and integrating with new ideas. Or will our experiment in structure and function wash away in the monsoons of history like nearly all evolution's eons of experiments?
For now, it's back to Kalsang, spiritedly laughing and discussing with his colleagues what our organ systems might do when experiencing happiness: our circulation rates will increase, he hypothesizes, our respiration will go up.
The opinions expressed in this commentary are solely those of Arri Eisen.