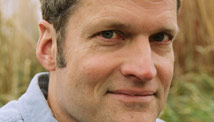 Stephen Prothero, a Boston University religion scholar and author of "God is Not One: The Eight Rival Religions that Run the World," is a regular CNN Belief Blog contributor. 
By Stephen Prothero, Special to CNN
Score one for David Souter. In the fisticuffs that is the Supreme Court, the recently retired justice often found himself on the losing side of 5-4 decisions. But in delivering Harvard's 2010 commencement address last week, he gave the court's conservatives a soft-spoken smackdown.
Rather than attacking constitutional "originalism" and its highest-profile proponent - Justice Antonin Scalia - by name, Souter aimed his jabs at what he called the "fair reading model" of constitutional jurisprudence. According to this model, the work of the Supreme Court is as simple as 1-2-3, where 1 is to read the Constitution fairly, 2 is to apply the facts of the case objectively and 3 is voila!
Nonsense, says Souter. This misguided approach misunderstands both the Constitution and what judges actually do.
In a tour de force that will likely be debated for decades to come, Souter focused on two cases: the Brown v. Board of Education desegregation case of 1954, and the New York Times Co. v. United States Pentagon Papers case of 1971. But at the heart of his argument was a simple yet far-reaching analysis of the nature of the constitutional text.
According to Souter, a President George H.W. Bush nominee, the Constitution is a document at war with itself - a mashup of conflicting values. "Its language grants and guarantees many good things," he observes, but these good things "compete with one another."
Moreover, there is nothing in the Constitution proper that tells us how to choose among order and liberty, or liberty and equality. So judges must do that choosing, "not because language is vague but because the Constitution embodies the desire of the American people, like most people, to have things both ways."
At the end of his address, which packed an even more powerful punch because of Souter's disarming, aw-shucks delivery, the man who once occupied the Supreme Court seat now held by Justice Sonia Sotomayor waxed philosophical. Although he drew on the jurist Oliver Wendell Holmes for his observation "that certainty generally is illusion and repose is not our destiny," the spirit that animated his final remarks derived more from the Protestant theologian Reinhold Niebuhr, whose work called attention to the unintended consequences of efforts by mere mortals to grasp the reins of history.
The "fair reading model" is driven, Souter concluded, by an understandable yet nonetheless naive "longing for a world without ambiguity" - by the "basic human hunger for certainty and control."
Souter's address deserves a serious reckoning in courtrooms across America, but it can also be applied to the world of religion (from whence it may well have sprung), and not only for its Niebuhrian call to give up on childish illusions of certainty and unchangeability.
Even more than the Constitution, which was written by a group of men over a span of months, the Bible, which was written by many different voices over millennia, is (to borrow from Souter) a "pantheon of values." Moreover, just as there are Constitutional originalists who read passages from the Constitution as absolute, there are Biblical fundamentalists who read individual passages from scripture as absolute. Souter is not one of them, in part because he is steeped in Episcopal tradition, which has historically resisted the "proof text" method of fundamentalists in the name of reading the Bible as a whole.
So one way of reading this commencement speech, which argues against piecemeal interpretations of Constitutional passages, is as an application of those liberal Protestant principles to questions of Constitutional law.
All this takes me back to questions I raised in a prior post about the impending confirmation hearings of Solicitor General Elena Kagan for the Supreme Court: Does religion matter? Should our selections of Supreme Court justices be religion-conscious or religion-blind?
If Souter was speaking the truth at Harvard (and I think he was), we should take religion into account in selecting our most powerful justices, because no matter how fairly they read the Constitution and how objectively they apply the facts of a case, in the end they must, as Souter pointed out, adjudicate among competing goods. And this adjudicating—this judging—they can only do in light of what they themselves most deeply value.
The opinions expressed in this commentary are solely those of Stephen Prothero.