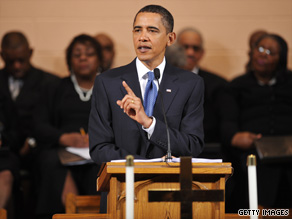 The religious left, unhappy with the Obama administration, has organized a conference in Washington this weekend to call on the president to "Be the Obama that Americans thought we elected in 2008."
Led by Rabbi Michael Lerner, the event is officially called "Taking Back Washington From the 'Pragmatists' and 'Realists': A Strategy Conference for Religious and Secular Progressives," featuring the likes of evangelical minister Brian McLaren, Rep. Keith Ellison (one of Congress' two Muslim members) and Riverside Church minister emeritus James Forbes.
Here's Lerner, editor of Tikkun magazine and chair of the Network of Spiritual Progressives,  laying out his grievances in an e-mail today:
While Obama's constant compromising with the interests of Wall Street, huge corporations and the rich have allowed right-wingers like Sarah Palin and many in the Tea Party movement to present themselves as 'the new populists', we progressives face a very difficult problem: supporting Obama against a resurgent racism, hatred of immigrants, and militarism on the one hand, and yet recognizing that it has been the absence of a coherent ideological alternative to the Right that has caused the Obama Administration to look so lame to many Americans.
The Obama administration, for its part, has coordinated much more closely with newer, more centrist progressive religious groups - like Catholics United and Faith in Public Life, both formed after the 2004 election - than with the old-line religious left crowd gathering this weekend. Since the 2008 campaign, Obama's faith-based political operatives have worked on appealing to moderates who'd been previously turned off by the Democrats' perceived hostility to religion and by the party's pro-abortion rights stance, focusing much less on religious lefties.
Lerner & Co. are fed up with the Democrats' big tent faith strategy - and their protests are growing louder. Prominent religious left blogger Dan Schultz is publishing a book on the subject this summer. Will be interesting to see if Obama & Co. start listening.