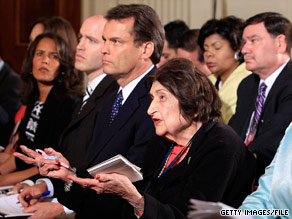 From CNN Senior National Editor Dave Schechter:
Most Americans have never heard of Rabbi David Nesenoff, but they now know his work behind the camera. Nesenoff is an independent filmmaker who asked columnist Helen Thomas the question that brought an end to her decades-long career.
Nesenoff was at the White House on May 27 with a media credential, representing his website www.rabbilive.com, to cover an event marking Jewish Heritage Month. He was accompanied by his 17-year-old son Adam, who also was credentialed – representing his website www.shmoozepoint.com – and a friend of his son.
They had attended a White House news conference at which Thomas, known as the dean of the White House press corps, was one of the reporters to question President Obama. Afterwards, Nesenoff and his son asked various people at the White House – from a TV reporter to a Jewish boxer to visiting rabbis – to offer thoughts on Israel.
It was in the driveway outside the north entrance to the White House where Nesenoff saw Thomas. "Let's meet her, let's learn something" Nesenoff recalled telling the boys. "I didn't remember that she had pro-Palestinian thoughts, anti-Semitic feelings," he said.
What followed has been viewed online more than one million times on various sites, Nesenoff says.
"Tell them to get the hell out of Palestine," Thomas told them. "Remember, these people are occupied. And it's their land. It's not German, it's not Poland's."
That answer in and of itself might have caused a minor stir. Regular viewers of White House news conferences over the years have heard her ask questions that betrayed sympathy for the Palestinians, perhaps not surprising for a U.S.-born daughter of Christian immigrants from Lebanon. But Nesenoff followed up by asking where the Jews living in Israel should go.
"They could go home. Poland, Germany," Thomas replied, " . . . and America, and everywhere else."
"I was hurt, I was shocked," Nesenoff told me. He was less concerned about Thomas' retirement. "There are bigger issues here," he said, "of anti-Semitism tied into anti-Israel (sentiment)."
After Nesenoff posted the video online, Thomas apologized in a statement. "I deeply regret my comments I made last week regarding the Israelis and the Palestinians," she said "They do not reflect my heart-felt belief that peace will come to the Middle East only when all parties recognize the need for mutual respect and tolerance. May that day come soon."
It was not enough to quiet the uproar. Nesenoff is looking for something more personal. "She owes me an apology," he says. "She owes my son an apology."