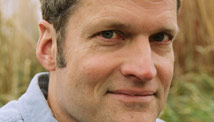 Stephen Prothero, a Boston University religion scholar and author of "God is Not One: The Eight Rival Religions that Run the World," is a regular CNN Belief Blog contributor.
By Stephen Prothero, Special to CNN
Religion isn't just for Republicans any more.
One key to President Obama's 2008 election victory was his willingness to speak openly about his personal faith and to connect the dots between his public policies and biblical values. 
In his inaugural address, he famously described the United States not as a secular nation or a Christian nation but "a nation of Christians and Muslims, Jews and Hindus, and non-believers."
Yesterday that patchwork nation was on display at the White House in an event on interfaith and community service on college campuses co-sponsored by the Obama administration's Office of Faith-Based and Neighborhood Partnerships and its Office of Social Innovation and Civic Participation.
I spoke at this event about the necessity of moving out of the rut of Interfaith 1.0, which all too often made interfaith gatherings look like clubs of like-minded liberals patting themselves on the back for viewing all religions as different paths up the same mountain.
I am happy to report that Interfaith 2.0 was very much on display yesterday at the White House. Joshua DuBois, executive director of Obama's Office of Faith-Based and Neighborhood Partnerships, spoke repeatedly about the need for "authenticity" in interreligious work — of welcoming theological liberals and conservatives alike into the conversation and not insisting on a "syncretism" where all religions are presumed to be essentially the same.
But the animating spirit behind the meeting was Eboo Patel, a 30-something Muslim American, a Rhodes scholar, and the charismatic dynamo behind the Chicago-based Interfaith Youth Core.
Patel, who worked with Mara Vanderslice of Obama's faith-based office to pull this event together, spoke of transforming interfaith service into a mass movement—of moving it "from niche to norm." We require high school students to dissect a frog, he said. Why can't we see understanding the world's religions as part of what it means to be an educated citizen?
Rejecting Samuel Huntington's controversial thesis that the Christian and Muslim worlds are fated to clash, Patel said that religious people can build either bombs or bridges. And college campuses are uniquely poised to model what interreligious bridge-building can look like.
This event, which included Buddhists and Jains alongside Christians and Jews, provided the strongest signal yet that for this administration "faith-based" is not a code word for "Christian" or even "Judeo-Christian." I sat with a Hindu to my right and a secular humanist to my left, and the speakers repeatedly followed President Obama in folding non-believers into the rhetorical mix. In this White House, it seems, secular humanists are one faith among many.
This creative new approach is bad news for those who don't want to see the government get into bed with faith-based organizations, because it co-opts the two constitutional criticisms of the faith-based initiatives of President George W. Bush — that they favored Christianity over other religions, and that they favored religion over irreligion. If Bush's initiatives were suspect on constitutional grounds (as I believe they were), Obama's more inclusive approach will in my view withstand any legal challenges.
Meanwhile, the many young people who attended this event will go back to their campuses and communities with an even greater commitment not only to talking and learning about the world's religions but also to doing service in the name of God, Allah, Krishna, and none of the above.
The opinions expressed in this commentary are solely those of Stephen Prothero.