CNN's Marilia Brocchetto files this report from Brazil about a Catholic holiday being celebrated in her grandmother's hometown:
"Do you have any flour?" asked the neighbor, as she proceeded to throw the little she had on the pavement in front of my grandmother's house.
I must have given her an interesting look because she felt the need to go into detail as to why she was throwing it on the ground: "It's for the parade later on tonight." For a second I had forgotten today was Corpus Christi.
Every year hundreds of Catholics work all day to decorate the streets of Catanduva, a small city in the southeast part of Brazil, and arrange everything for the sundown parade. This year, Maria Odete Martins was the neighbor responsible for our block.
"I haven't had lunch yet; I have been getting supplies from everywhere I can find," she said.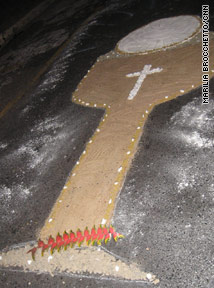 And so she did: palm trees from here, chalk and flour from there, and slowly a rug portraying some of the most important Catholic symbols was woven on our street. (The image at right is a small part of the rug woven on the pavement and represents the Holy Grail.) She estimates it took her about three hours and five volunteers to decorate the block.
"It's my second year doing this, next year the other parish will be responsible for arranging the decoration and then the following year, 2012, it's back on us," she said.
Residents came out after sundown, from their front porches and from behind their fences, waiting for mass to end and the parade to start. My grandmother, a devout Catholic, lit a couple of candles and started to pray.
"If you want a miracle, this is the best time to ask for one," she told me.
Corpus Christi is Latin for Body of Christ. This is the holiday when Catholics commemorate the institution of the Holy Eucharist, or communion. It's held either on a Thursday or a Sunday roughly 50 days after Easter.
Martins tells me she remembers the parades since she was a little girl. "We have always used what we have, including our creativity," she said.
This year it was a little special.
"We believe in the Holy Spirit, and this year a white dove stopped on the street while we were decorating it. I see grey ones all the time. I get goose bumps just thinking about it," she said. "The dove felt like it approved of what we were doing."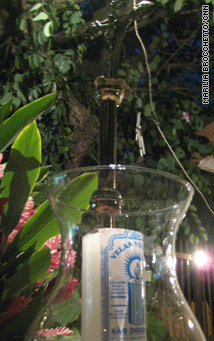 I was given the task of lighting two of the candles that lined our street for the procession (Pictured at right).
Praying and singing, devout followers carried the holy body of Christ in the form of a round wafer, walking the rugs we had woven.
Everywhere in the country and around the world, devout followers were doing the same. Rich and poor, big cities and small towns alike, everyone came to a halt to decorate and celebrate this holiday.
Martins told me she plans to participate in the march next year.
"I was so tired today after organizing everything that I don't know if I can give 100 percent, but next year I'll go to mass and march down the streets," she said.
For today, she hopes her hard work and all her candles will make up for her absence in the feast.