A few years back, a woman invited me to her dog's funeral.
As she dabbed tears from her eyes, she walked through a pet funeral home recalling how her dog had helped her overcome a serious illness and a divorce.
I met her because I was writing a newspaper story about pet funeral homes. But there was a religious undercurrent to our conversation that I never broached. She believed that she would see her dog again.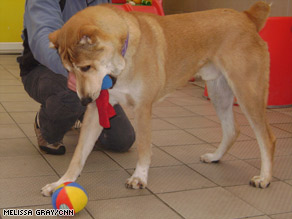 So do others. It turns out that books on the spirituality of animals constitute a fast-growing literary genre. According to Publishers Weekly, these new books "set out to prove that animals are spiritual beings with lessons to impart":
As anyone who has a beloved pet knows, the experience is like losing a part - the better part - of one's self. Animals, many people feel instinctively, are more than their soft fur and big eyes.
The genre includes "Will I See My Dog in Heaven?," "The Divine Life of Animals: One Man's Quest to Discover Whether the Souls of Animals Live On," and "Blind Hope: An Unwanted Dog and the Woman She Rescued."
It's an intriguing question: Do animals have souls?