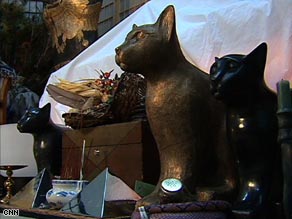 Inside a copper-colored pyramid off Interstate 15 in Salt Lake City, Utah, the late founder of a homegrown spiritual group called Summum stands encased in his $40,000 specially commissioned bronze mummiform.
Around Corky Ra, who died in January 2008 at 63, are mummified cats and dogs, some pictured above – the beloved pets of his and those who've subscribed to the Summum philosophy he created.
At least that's what was there the last time I checked. I learned about Summum when I was covering religion for The Salt Lake Tribune. When I first showed up hoping to interview Ra, I found out he was dead and inside the pyramid, floating in a vat of mummification fluids.
Outside the pyramid are the grave markers of those who died before mummification of humans became part of Summum's practice. Ra, in fact, was the first to go through the process.
One marker outside is for Michael Burdell, a 36-year-old attorney who was shot and killed in 1985 by Ronnie Lee Gardner as he attempted to escape a Salt Lake City courthouse.
Gardner is scheduled to be executed by firing squad on June 18, and friends of Burdell – some who are affiliated with Summum – have come forward, saying Gardner's death is not what their friend would have wanted.
So what is Summum?
Summum is "about an ongoing progression of the soul and discovery of that, of what's in you," one of the group's officers, Sue Menu (whose legal name is Summum Bonum Neffer Menu) told me last year, after I'd come to CNN. "I've become a stronger person because of it. I don't see how anybody can come to the conclusion that that's bad."
In the 1970s, a man by the name of Claude "Corky" Rex Nowell, who'd been raised in The Church of Jesus Christ of Latter-day Saints, claimed to have had encounters with "advanced beings." He wrote about the experiences in his book, "Summum: Sealed Except to the Open Mind."
To those who follow his teachings, the idea that he would have been visited by some higher power is no more outrageous than the claims of any other religious leader.
He created the religious community in 1975, and five years later legally changed his name to Summum Bonum Amon Ra - though he still went by Corky.
In basic terms, Summum is a belief system or a way of life that follows meditations (many in a language not spoken by those who recite them), incorporates the use of sacramental wine and practices its own brand of "mummification and transference." This practice, they say, helps guide the soul of the living into its next lifetime.
Summum is not a formal church. It does not require attendance at services, and the meditations, once learned, can be practiced individually. Some meditations are recited in English, and one – the Meditation of Sexual Ecstasy – is less spoken than it is acted out between lovers.
Practitioners "believe in one source," Menu said, "But we just don't label it as God. We just call it creation. We call it Summum," which is a Latin term meaning "the sum of all creation."
Religious texts of all kinds – the Quran, the Hebrew Bible and The Book of Mormon – are in the pyramid, as are a number of Buddhas, all of which serve as testament to Summum's acceptance and inclusion of all spiritual philosophies.
Menu estimated that "hundreds of thousands" of people around the world had tapped into Summum's teachings, which are broadcast online. As of February 2009, about 1,500 people from across the globe and all different religious backgrounds had requested Summum's mummification arrangements through their funeral homes, according to Ron Temu – a licensed funeral director and good friend of Burdell, the man killed by Gardner.
The group made headlines in recent years when it pushed to erect a monument listing Summum's seven guiding principles, or aphorisms, in a Utah municipal park that has long displayed a monument for the Ten Commandments. The Seven Aphorisms are the principles of psychokinesis, correspondence, vibration, opposition, rhythm, cause and effect, and gender.
In a 2007 ruling, the 10th U.S. Circuit Court of Appeals in Denver, Colorado, said free speech guaranteed Summum the right to erect its monument. But the U.S. Supreme Court agreed unanimously in February 2009 with the city of Pleasant Grove, Utah, which argued that displays on public property, privately donated or otherwise, are "government speech" and are under the discretion of officials.
"We're one humanity, but we all have our path and we all have our experiences," Menu once told me. "We're not weirdos. We're just normal people trying to follow a spiritual path. ... We aren't mainstream, that's for sure, but so what? There are so many people who are fed up with [the mainstream] anyway."