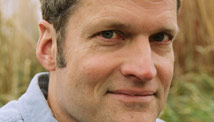 Stephen Prothero, a Boston University religion scholar and author of "God is Not One: The Eight Rival Religions that Run the World," is a regular CNN Belief Blog contributor.
By Stephen Prothero, Special to CNN
Ted Haggard is back.
In 2006, a gay sex and drug scandal knocked this former head of the National Association of Evangelicals from his perch as pastor of the 14,000-member New Life Church in Colorado Springs, Colorado. Earlier this month, Haggard emerged from his own private purgatory, announcing that he has started a new nondenominational church, St. James, which will meet in his home. 
Haggard's resurrection left me with a series of questions, including whether he has done his time and what this unending cycle of sin, confession, and redemption says about America. To answer these questions, I contacted Susan Wise Bauer, an independent historian and author of The Art of the Public Grovel: Sexual Sin and Confession in America—a history of how the high and mighty fall, confess, and (more often than not) bounce back.
Stephen Prothero: Ted Haggard is Reverend Ted again. As public grovels go, how did he do in his 2006 admission of "sexual immorality"?
Susan Wise Bauer: Haggard's confession was almost picture-perfect. A leader caught in scandal has to reassure his followers that he doesn't intend to go on misusing the power that's been handed over to him. He has to offer his followers a chance to demonstrate their own power, by taking part in a forgiveness ritual that allows them to hold the leader to account. If he can manage to use language that suggests he's on the side of good in an ongoing struggle against evil, so much the better.
Stephen Prothero:  So did he do all that?
Susan Wise Bauer: Haggard's original letter to his congregation, and his method of delivering it, accomplished all these things. By handing the letter over to other church officials and disappearing from the scene, he showed that he was willing to relinquish his power immediately. He assured them that he would "never return to a leadership role at New Life Church." He also asked them to forgive him, which gave them a chance to demonstrate their own power as a church body.
Followers who have been betrayed by a leader need the opportunity to show that they're not powerless, and Haggard's letter repeatedly appealed to parishioners to "rise to the challenge" of forgiveness. Finally, he portrayed himself as a fallen warrior in the battle against evil, which (given the nature of his offenses) was no small accomplishment. He was divided in two, he said, with a good side (which he identified as truly himself) warring against a "repulsive and dark" side.
Stephen Prothero: So how soon is too soon to return to public life? Jimmy Swaggart is back. So is Bill Clinton. Has Haggard served his time?
Susan Wise Bauer: Depends. It isn't too early for him to return as minister of a smallish, not-very-prestigious congregation, which is what he's trying to do. If, however, his followers see him grasping for more power, they will likely grow suspicious, suspecting that his return was motivated not by the desire to serve, but by the desire to be prominent once again.
Stephen Prothero: But surely some members of his old church still feel betrayed. Shouldn't he just stay out of the pulpit forever?
Susan Wise Bauer: According to whose standard? He promised that he wouldn't return to leadership at New Life, and he hasn't. He promised to go through counseling, which he did. (Remember the huge announcement by his counselor that he had been "cured" of all homosexual impulses?). He promised to be accountable to a selected group of ministers, and so far as I know he's held to that.
Stephen Prothero: With David Letterman, Tiger Woods and others, we have seen a run on high-profile confessions since your book came out.  So much so that South Park spoofed the lot of them in a March episode called "Sexual Healing." Who in your view has done the best job of public groveling in recent years?
Susan Wise Bauer: Tiger Woods hit all the important notes in his confession. Woods is neither a religious leader nor an elected official; he's a celebrity, so his relationship to his public is governed by different expectations. Still, he began by making himself accountable to everyone in the room, acknowledging that they have some sort of power over him and that he has a responsibility towards them. He said "I am sorry" directly and without excuse. He rejected the idea that his talent and celebrity gave him any right to bad behavior, even using the word "entitled."
He didn't drag his wife into the room to stand by him—something that always focuses our attention on the wronged party. (All those politicians who make their wives stand by them while they apologize just remind us how badly they've abused our trust). In fact, he came to her defense. Finally, he managed to portray himself as both the sinner and, to some degree, a victim. I was at first skeptical about him excluding the press, but this decision allowed him to portray himself and his family as hounded by the media.
Stephen Prothero: How about a groveller who has fallen flat on his face?
Susan Wise Bauer: John Edwards couldn't have done a worse job if he had set out to torpedo his own career. He hired the videographer Rielle Hunter in the first place because he thought the entire country would be fascinated by a video showing the mundane details of his daily life, and every word he spoke about his affair oozed ego. Mark Sanford was also cringe-makingly ineffective. His affair showed that he was willing to abuse his power as an elected official for his own gain, and his attempts to explain merely focused our attention on his betrayed wife who, like the voters who put Sanford in office, trusted him only to be taken advantage of.
Stephen Prothero: So is ego the key here?  Or, in Buddhist terms, egolessness?  Is the art of the public grovel about checking your ego at the door?
Susan Wise Bauer: It's about admitting that you're just the same as anyone else–no more worthy, no more deserving of power. Public life tends to obscure that basic truth. We can sense when a public figure has started to become a little too impressed with himself. When scandal follows, we take it as confirmation: He thought that the rules governing human behavior didn't apply to him, that he was special, that he could get away with it. We need to see him admit that none of this is true.
Stephen Prothero: Finally, don't you think that Americans are suckers for all this redemption stuff? We want larger-than-life heroes. We want to cut them down to size. Then we want them back again. Isn't there something pathological here?
Susan Wise Bauer: I don't think it's pathological. It's a by-product of our idealism–our commitment to democracy, and its implication that all people are truly, deeply, spiritually equal. In America we say that any boy can become president. That's an expression of hope. The flip side is that once that boy is in the White House he is no better than the rest of us. If he starts to get exalted ideas about what he can get away with–starts to act entitled–that's a betrayal of the democratic ideals that put him in office.
Stephen Prothero: So much for pastors and politicians. Are there different rules for celebrities?
Susan Wise Bauer: Absolutely. We want our religious and political leaders to take charge, but we feel deeply ambivalent about the amount of power we've handed over to them. So we are anxious to rebalance the relationship by cutting them down. Celebrities are different. As long as they're entertaining us, they can get away with a lot more. And, yes, we're always ready to welcome them back because they don't have the same power over us. I'm trying to think of a celebrity whose life was ruined by scandal. Remember Rob Lowe? Doing fine. Martha Stewart? Back on top. Tiger Woods? He may be struggling to make the cut, but he's playing again.
The opinions expressed in this commentary are solely those of Stephen Prothero.