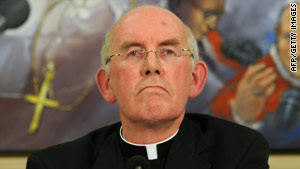 Three out of four Irish adults say the country's top churchman, Cardinal Sean Brady, should resign for his role in hiding abuse of children by one of the country's most notoriously abusive priests decades ago, according to a poll published by the Irish Times Monday.
Brady (pictured) was part of an internal church investigation into Father Brendan Smyth in 1975. He did not report his findings to the police and asked two teenagers who gave him evidence to sign oaths of secrecy.
Child abuse by Catholic clergy in Ireland has become such a widespread scandal that the pope addressed it in an unprecedented pastoral letter to Irish Catholics.