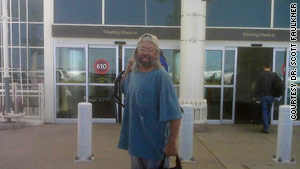 A few details from today's story of an American detained in Pakistan after apparently hunting for Osama bin Laden suggests the man, Gary Brooks Faulkner, was at least partly motivated by his Christian faith:
1. Faulkner's brother, Scott Faulkner, told CNN: "Osama had made some references to our God, the God of the Bible, in a poor light, and the fact that he was taunting America and getting away with killing thousands of Americans, my brother took that very personally."
2. Faulkner "felt that he was, as a Christian, not afraid - that he could boldly step out and that doors would be opened for him," his brother said.
3. Faulkner was found carrying a pistol, a sword, night-vision equipment and Christian religious books, said Mumtaz Ahmed, a Pakistani police chief.
We'll keep an eye on this angle as more details from the story emerge.