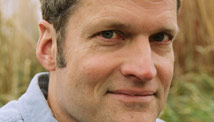 Stephen Prothero, a Boston University religion scholar and author of "God is Not One: The Eight Rival Religions that Run the World," is a regular CNN Belief Blog contributor.
By Stephen Prothero, Special to CNN
It's probably not the best venue for promoting religious literacy, but I managed to get a few words in edgewise during my brief border crossing into "Colbert Nation" last night. In our mini-battle of the Stephens, Colbert was his usual staccato self, but he allowed me to make a few points about my new book, God is Not One: The Eight Rival Religions That Run the World—and Why Their Differences Matter.
Colbert came out swinging, insisting on the superiority of Christianity as the one true faith. I got in a few jabs of my own, however, including my argument that the atheists (who say all religions are one and bad) and the liberal multiculturalists (who say all religions are one and good) both have it wrong.
The world's religions aren't different paths up the same mountain, I said. They are "going up different mountains with different techniques and different tools."
The best line of the night belonged, however, to the truthy Stephen. As I was struggling to say something coherent about how Islam, Hinduism, Buddhism, and Judaism try to solve very different problems, he delivered classic Colberesque non sequitur: "Adam and Eve were Jewish. Check under the fig leaf, my friend."
Oh, and Stephen Colbert (the man, not the character) was a gracious host backstage. He told me he used to teach Sunday school in his Catholic parish, and he made the day of my star-struck cousin by having a picture made with him. 
All in all, great fun. I hope it was just round one.
The opinions expressed in this commentary are solely those of Stephen Prothero.