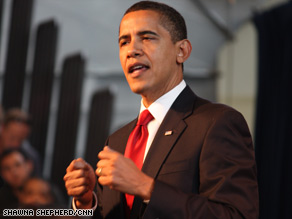 President Barack Obama named an ambassador for international religious freedom Tuesday night, weeks after a report from the U.S. Commission on International Religious Freedom criticized the White House for leaving the post vacant.
Obama nominated Suzan Johnson Cook, founder of a group called Wisdom Worldwide Center, as Ambassador-At-Large for International Religious Freedom, the White House said in a statement.  Cook is a Bronx, New York-based pastor and is chaplain to the New York City Police Department, according to the statement.
Obama also named two appointees to the U.S. Commission on International Religious Freedom on Tuesday.
Both the ambassador-at-large position and the commission were established by the 1998 International Religious Freedom Act.
Obama nominated Felice Gaer, a current commission member, for another term, and named William Shaw, a past president of the National Baptist Convention and a Philadelphia-based pastor, to the commission.
The commission's annual report on religious freedom around the world, released in April, said that the lack of an ambassador for international religious freedom "leaves vacant an important policy position."
The report also expressed concern over reports that the Obama administration had downgraded the position. "Congress intended the Ambassador-at-Large to be a 'principal adviser to the President and the Secretary of State regarding matters affecting religious freedom abroad,'" the report said, "but USCIRF is concerned that the position may have been diminished within the State Department hierarchy."