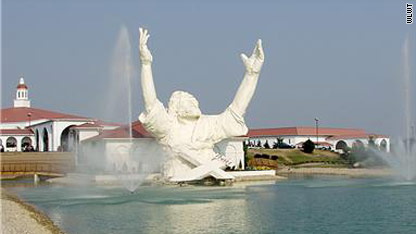 The Solid Rock Church in Monroe, Ohio will rebuild the "King of Kings" Jesus statue that was destroyed Monday after being hit by lighting, church officials say.
The story has gotten worldwide  attention and has some asking if the lightning strike was an act of God. All that is left of the 62 foot statue of Jesus coming out of the water arms raised is the steel frame. In Ohio, the statue was known as "Touchdown Jesus." Now, CNN iReporters are calling the ruined structure "Terminator Jesus."

CNN affiliate WLWT in Cincinatti has an update to the story.