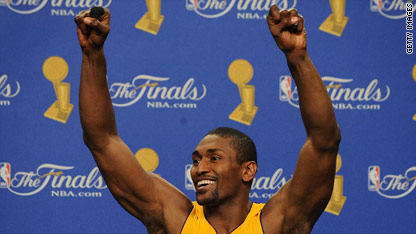 I recently wrote an article ("When did God become a sports fan?") that asked if athletes were trivializing faith by thanking God for their on-field success.
Then I watched the deciding game of the NBA Finals last night and I thought, hmm, maybe there is such a thing as divine intervention.
That thought crossed my mind after reading comments from the unlikely hero of the NBA Finals. For those who don't follow the NBA, the Los Angeles Lakers defeated the Boston Celtics last night to win the championship.
The hero of game turned out to be the Lakers most unreliable player, Ron Artest. Artest is a bruising player best known for the time he charged into the stands during a game in 2004 and pummeled fans who had jeered him.
But in a post-game interview last night, a glowing Artest was in a more, well, theological mood.
Artest became the hero of the game when, as the contest hung in balance, he swished in a three-point basket that sealed the Lakers' win.
When reporters later asked him why he took such a low-percentage shot in a critical moment, Artest refused to take credit, according to a column by Arash Markazi of ESPNLosAngeles.com.  
Artest said he wasn't sure he should shoot, but God told him to let it fly, Markazi said.
"A voice came down and told me to shoot the ball," Artest said. " Shoot the ball,' He said. God told me to shoot the ball and I shot the ball."
Maybe God isn't a sports fan, but at least for Artest, he was a Lakers' fan for one night.