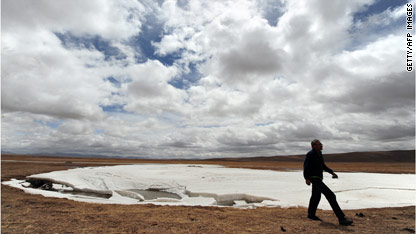 If you want to know how the issue of global warming is dividing the evangelical world, Richard Cizik's story is a good place to start.
Cizik was recently a leader in the National Association of Evangelicals, a powerful, 68-year-old conservative group. When Cizik tried to convince the NAE to take a public stand on global warming, he was booted from the association, according to Paul Rogat Loeb, author of "Jesus and Climate Change - The Journey of  Rich Cizik."
The firing was big news. Some of the nation's biggest evangelical leaders called for Cizik's removal. Cizik also hurt his cause with some conservative leaders when he told a National Public Radio interviewer that he was also rethinking his opposition to gay civil unions.
Cizik, who has since formed a new group called "The New Evangelical Partnership for the Common Good," said the science backing global warming was too compelling to ignore.
Cizik says he thought little about climate change until he attended a 2002 conference on the subject and experienced a conversion.
"I didn't want to be like the evangelicals who avoided getting involved during the civil rights movement and in the process discredited the gospel and themselves," Cizik wrote in an essay.
Cizik now calls climate change "the civil rights issue of the 21st century."
Is he right? Will the evangelical leaders who question global warming look one day like some evangelical leaders who stood silent while marchers were beaten in the streets during the civil rights movement? Or should religious leader stay out of the scientific debate on global warming?