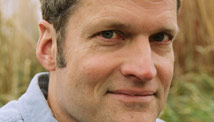 Stephen Prothero, a Boston University religion scholar and author of "God is Not One: The Eight Rival Religions that Run the World," is a regular CNN Belief Blog contributor.
By Stephen Prothero, Special to CNN
What I did not say on The Colbert Report last week has at least two Hindus hopping mad.
Depending on which headline you read—and you can now read them by the dozens from Boston to Kathmandu—I told Stephen Colbert either that Hindus are "horrible" or that the "Hindu rebirth doctrine is horrible." As a result of these slurs on Hindus and/or Hinduism, Rajan Zed, President of Universal Society of Hinduism, and Bhavna Shinde of the Forum for Hindu Awakening have reportedly asked for me to apologize.
I am happy to presume that both Zed and Shinde are trying to expose the ignorance about Hinduism among non-Hindus in the West. And as the author of one of the first scholarly articles on "Hinduphobia" in American life, I am happy to admit that such ignorance is rife. In this case, however, there will be no apology–at least not from me–since as anyone who watched the clip with any care can attest, I said nothing against the Hindu tradition.
In one early report of this controversy, Kerry Skemp wrote in the Bostonist that my comments came out of an exchange with Colbert over "what's bad about each of the 'Big 8' religions."  Perhaps this is where the confusion lies, because that was not what Colbert was asking.
Colbert invited me on his show–a comedy show, need I add?–to discuss my new book, God is Not One. In this book, I argue that, while the world's religions agree that something has gone awry with the human condition, they disagree sharply when it comes to diagnosing this problem.
I broached this matter with Colbert when I observed that Christians "attack the problem of sin" while Buddhists "try to deal with the problem of suffering."
He then asked me to name the diagnoses of the human problem offered by other religions. "What's the problem of Islam?" he asked.  "Pride," I said.
"Hindu—what is their problem?" he asked. To which I responded, "Well, in Hinduism the problem is we keep getting reborn—over and over and over again—and that's horrible. And we don't want to do that." I later referred to this doctrine of rebirth as the "problem they [Hindus] are attacking."
I was saying nothing controversial here, except perhaps for people who want to conjure up controversies out of thin air.
At no point in the interview did I say that Hindus are "horrible" or that the Hindu doctrine of rebirth is "horrible." What I was trying to do—inside the constraints of a piece of performance art featuring an idiotic character known as "Stephen Colbert"—was describe what Hindus have referred to for thousands of years as the problem of samsara.
This Sanskrit term, which literally means "wandering by" or "flowing through," refers to wandering from existence to existence, flowing through the cycle of life, death, and rebirth, and suffering horribly along the way.
It should be said that Hindus do affirm the joys of human existence. In fact, the Hindu tradition, which includes sensual pleasure among its aims, is far more life affirming in my view than the Christian tradition. Moreover, there is much to learn according to Hindu sages from any incarnation in a human body.
Nonetheless, Hindu holy books and holy men have for long referred to samsara as a negative thing—something we want to escape. The goal of Hinduism is to move out of this wheel of sorrow–a "vicious circle" according to both the Encyclopedia of Religion and the venerable Swami Yogananda—into something that is deathless, which Hindus refer to as moksha.
So that was what I was trying to say when I tried to answer Stephen Colbert's question about Hinduism in seven seconds or less.
Now that I have cleared that up, I am tempted to ask for an apology myself.  Or, better yet, a Roseanne-Rosannadanna-style "NEVERMIND" from Rajan Zed, who got this nonsense going on Sunday when he issued a press release called "Hindus upset at labeling of rebirth doctrine as 'horrible' by Boston professor."
But how about this instead? When it comes to the volatile topic of religion is it too much to ask that we listen to one another without always assuming the worst?
These denunciations of me for things I did not and never would say offer in my view additional evidence that we need a new, more civil and more informed, way of talking about religion. Far too often, religious and non-religious people alike do far more pontificating than listening. As a result, our conversations about religion are impoverished, marred by half-truths and misunderstandings—what Hindus call avidya (ignorance).
According to the Hindu tradition it is avidya that keeps us stuck in the "vicious cycle" of life, death and rebirth. A little less of that ignorance all around would be a good start.
The opinions expressed in this commentary are solely those of Stephen Prothero.