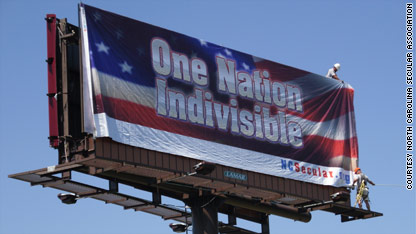 Religious billboards adorn the highways across the South. But a new billboard campaign in North Carolina deliberately snubs the Almighty.
A coalition of atheists and secular humanists has placed a billboard on Billy Graham Parkway in Charlotte that displays an American flag with a few key words from the Pledge of Allegiance: "One Nation Indivisible."
Notice anything missing? The phrase "under God," which appears between "One nation" and "indivisible" in the Pledge, is absent on the billboard.
William Warren, a member of the North Carolina Secular Association, says his group put the ads up on billboards across the state to let people know that patriotism and belief in God are not always synonymous.
The billboards are appearing in a half-dozen locations across the state, including Asheville, Winston-Salem and Raleigh, in addition to Charlotte.
Warren, an atheist, says people who share his beliefs often fear losing their job or their friendships. The billboard is designed to encourage them to be more open.
"We're here. We're your neighbors, your co-workers," he says. "We're not happy that we have to hide who we are everyday."
Read more on this story from CNN Charlotte affiliate WBTV.
A statement on his group's website says the campaign "is intended as a consciousness-raising effort to point out how every U.S. citizen who doesn't believe in a monotheistic god is being 'officially' marginalized, disrespected, and discriminated against by the insertion of 'under God' in the Pledge..."
The North Carolina Secular Association's statement also alleges that North Carolina's constitution "restricts anyone that doesn't believe in a monotheistic god from holding public office."
Warren says two billboard companies refused to raise the billboards. One said the Pledge ad was too controversial. Another didn't call back when it heard about the planned message.
"It's a pretty innocuous message," says Warren. "If someone sees controversy in the message, they're looking for controversy."
Some may consider the location of the Charlotte billboard controversial: along a parkway named for the Rev. Billy Graham, the venerated evangelical minister.
But Warren says the location was chosen because the price was right. The Charlotte billboard costs $3,300 to rent for a month.
The entire billboard campaign costs $15,000, with money coming from donations from various secular groups and from a national marketing organization called FreeThoughtAction.
The North Carolina Secular Association's website explains that it chose the Pledge for its campaign because the phrase "one nation under God" was inserted into it in 1954, provoked by the Cold War. The intention then was proclaiming a Judeo-Christian American heritage in the face of godless  communism.
That change, though, stigmatized atheists and religious skeptics, Warren says.
"Instead of uniting the nation, it divided the nation," Warren says. "You were either religious or with the godless communists."
The Pledge was originally written in 1892 by a former Baptist minister who made no reference to religion in his version.
In 2004, the Supreme Court rejected efforts by a California atheist to revisit the issue of banning the Pledge's recital in public schools because of its use of the words, "under God."