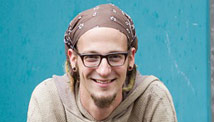 Editor's Note: Shane Claiborne is an author and activist and one of the architects of a community in Philadelphia called The Simple Way. Shane worked in India alongside Mother Teresa and has spent time in Iraq with the Christian Peacemaker Team during the recent war. His books include Jesus for President, Follow Me to Freedom, and bestselling Irresistible Revolution. Check out more at: www.thesimpleway.org.
By Shane Claiborne, Special to CNN
It's been graduation season here in Philadelphia. Cars honking, people yelling, balloons everywhere … Folks in my neighborhood know how to celebrate a graduation, because it means that some teenager has beaten the odds, and triumphed over all the obstacles.

I live in one of the most economically devastated neighborhoods in Philadelphia, in the post-industrial wreckage with hundreds of abandoned factories and houses, and with a lot that is broken in our lives and in our streets … and in our schools.
I got to go to the graduation at Edison High School, where one of the high school kids I have mentored wore the cap and gown (and who is now receiving a scholarship to Eastern University, my alma mater) - a stellar kid named Michael.
It was a moving, roller coaster of emotion. The joy of it being the largest graduating class ever was tempered by the fact that the graduation rate in Philladelphia is only 57 percent, and even lower among the fellas … with only 2 of the top 20 graduates being male. Amid the delightful outbursts of "You're the man" and "You did it girl," I got to talk with some folks from the high school.
Out of about 500 kids graduating in that class at Edison, around 40 will go to a four-year college and about 50 will join the military. That struck me. More kids in the graduating class will go into the military than will go to college.
I also learned that Edison High School holds another tragic record - the most graduates to be killed in the Vietnam War of any high school in America (54 kids), no coincidence that it is located in North Philly rather than the suburbs. Heaven forbid Edison end up holding the record for Iraq casualties as well.
It was Dr. Martin Luther King Jr. who said,
"A nation that continues year after year to spend more money on military defense than on programs of social uplift is approaching spiritual death."
And as we see a bankrupt school system we can truly feel the blowback of the bombs in Iraq and Afghanistan. There is that bumper sticker hope that a day will come when the schools will have all the money they need and the military have to hold a bake sale. It's time for our kids to dream of another future than wars and rumors of wars.
I am reminded of a returning veteran from the Iraq War who told me of how financial difficulties compelled him to join the army. And then my young vet friend said, "We may not have a draft in America, but we have an economic draft… kids like me are joining the military because they see no other future." And they are dying as they try to build that future. He ended up becoming a conscientious objector and being discharged.
In my neighborhood, military recruitment is very clever and selective – recruiters go door to door with military brochures that say: "They told you to go to college, they just didn't tell you how… Join the Army."
It occurs to me that those of us who are Christians and other people of conscience working to end war and violence (and build an "Army of None" as we like to say) have a tremendous burden of responsibility on our shoulders. We must create other ways for kids to go to college than military and ROTC scholarships.
I am excited to be alive today because I see people with imagination doing just that. Church congregations are creating "Alternative to Military Scholarships" for at-risk youth, and colleges like Eastern University are doing all they can to laugh in the face of a recession and create full-rides for kids like Michael because it is the right thing to do. It takes courage. I even heard of a suburban Christian mother speaking of her vigilant desire to "love her neighbor as herself"… and, for every one of her own kids she sends off to college she has created a scholarship fund for a kid in the inner city, and merges their lives and families together. How's that for loving your neighbor's kid as you love your own?
The valedictorian at the Edison graduation last week was a recent immigrant to the United States, who just moved here four years ago, ready to get his high school education. Now, after learning English and graduating first in his class, he declared before his colleagues, "The only limits we have are the ones we put on ourselves." And the crowd roared.
I yelled too, with tears in my eyes. Part of me also hesitated, thinking of all the obstacles that stand in the way of some kids who seem to start at first base while other kids start on third. With a dropout rate of 42 percent, Philadelphia is in need of some fresh courage and imagination … lest the limits have the last word. I caught a glimpse of this courage at Edison. Now I guess we look in the mirror and ask what we can do to interrupt the economic draft and move the world a little closer to the one we dream of.
Meanwhile, give a little honk or a barbaric yelp next time you see a graduate.
The opinions expressed in this commentary are solely those of Shane Claiborne.