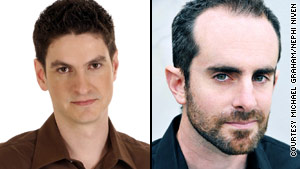 Drinkwater (left) and Michaelson both work to build an inclusive
LGBT community within the Jewish faith.Gregg Drinkwater is Deputy Director of Keshet, dedicated to creating an inclusive American Jewish community for gay, lesbian, bisexual, and transgender (LGBT) Jews. Jay Michaelson is Executive Director of Nehirim, a national organization building community for LGBT Jews, partners and allies. More information at www.jewishinclusion.com
By Gregg Drinkwater and Jay Michaelson, Special to CNN
The American Jewish community is generally more progressive than other religious groups when it comes to gay issues.
All movements except Orthodoxy (which represents about 10% of American Jews) now ordain gay and lesbian rabbis, and perform same-sex weddings. There are gay synagogues, national LGBT Jewish organizations and a bevy of local groups ranging from TransTorah (learning opportunities for transgender Jews) to He'Bro (dance parties for gay Jewish men).
The trouble is that we do not speak with a unified voice.
Indeed, one of the strengths–and weaknesses–of contemporary Judaism is its decentralized nature. On the one hand, this means that divergence of opinion and practice is much easier to accommodate than in organizations like the Catholic Church.  On the other hand, well, you know the joke: two Jews, three opinions.
Because of its decentralized nature, the Jewish community's progressivism rarely translates into effective political muscle, or intra-communal organizing. Nor is there a unified agenda for what "inclusion" really means. Should limited resources be focused on creating safe schools, and safe summer camps for kids? (Anti-gay epithets are still very common among American Jewish teens.)
Or should a focus be placed on Orthodox and ultra-Orthodox communities, where children are still being disowned by their parents or sent to abusive and ineffective "reparative therapy" programs?
To address these questions, over 100 LGBT Jewish leaders are gathering in Berkeley, California, to build a stronger and more unified LGBT Jewish movement. Coming together for this historic LGBT Jewish Movement Building Retreat are activists representing 40 different LGBT Jewish organizations from throughout the United States.
Together with leaders from an additional 22 national and regional Jewish and LGBT organizations, foundation professionals and several international observers, those gathering in Berkeley want to define and energize the movement for LGBT inclusion in the Jewish world.
This convening builds on a long and proud history of LGBT Jewish organizing, which began nearly 40 years ago with the founding of gay and lesbian synagogues as safe havens for gay Jews. Synagogues (and their umbrella organization, the World Congress of GLBT Jews) have been and remain vital "safe spaces" for LGBT Jews, even as national organizations have grown and activists have worked for full inclusion and equality within "mainstream" institutions.
So, what are we, as two of the organizers of the convening, hoping comes out of the three days' worth of meetings in Berkeley?
First, connection, conversation and community. This is a historic gathering – many of us have never met face to face, and we come from very different religious and cultural backgrounds. Just being in the same place at the same time is a key first step.
From that connection, we hope that participants will gain a renewed sense of themselves as part of a movement, rather than freelance activists or clergy members with responsibility only toward their synagogues' membership. We are going to roll out practical proposals, from a unified online calendar and blogging software to ongoing working groups, to enable better coordination and communication.
We're aiming for nothing less than a "consciousness shift" among LGBT Jewish leadership in the United States.
And finally, from that sense of ourselves as a movement, we hope to emerge with a unified agenda for change – or at least steps in that direction. There has been generous philanthropic support of LGBT Jewish activism. On Monday, a Funders' Roundtable brought together the leading funders of this work for the first time – and we have achieved many of our goals. There's a real sense that now is our moment to come together and set our priorities for the next decade.
There is, indeed, so much work still to be done. Just 10 months ago, an unknown gunman killed two people and injured many more at a Tel Aviv drop-in center for LGBT youth.
Gay people are still vilified and demonized by rabbis and communal leaders around the world – including the American Orthodox Union, which has recently put out a series of anti-gay statements. And as you read these words, somewhere, an ultra-Orthodox Jewish teenager, without access to the Internet or contemporary media, is wondering if he is the only gay Jew in the world, and if God hates him because he is gay.
This is why we're gathering in Berkeley.
The opinions expressed in this commentary are solely those of Gregg Drinkwater and Jay Michaelson.