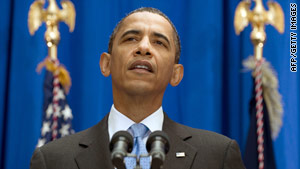 The White House invited four of the country's top evangelical pastors to attend President Obama's speech this morning calling for immigration reform. The move is a testament both to the importance the issue has come to assume in the evangelical world–including among leaders who have battled Democrats on social issues like abortion and gay marriage–and to the White House's eagerness to enlist evangelicals to help to counter conservative opposition to the idea of a path to citizenship for illegal immigrations already in the U.S.
Here's a cheat sheet on evangelical bigwigs the White House was expecting at this morning's event:
1. The Rev. Leith Anderson, President, National Association of Evangelicals. The NAE is the nation's largest evangelical group and has long sought to be a moderate evangelical alternative to the Christian Right. After sitting out the 2007 fight over immigration reform, the group passed a unanimous resolution last year supporting comprehensive reform.
2. Dr. Richard Land, President, Southern Baptist Convention Ethics and Religious Liberty Commission. Land is the public policy chief for the country's largest evangelical denomination, a perch he has used to bash the Obama administration on multiple fronts, including health care reform. But he sees comprehensive immigration reform as a biblical mandate—and worries that conservatives will burn bridges with the country's fast-growing Hispanic bloc if they take a hard anti-immigrant line. "Hispanics are hard-wired to be like us on sanctity of life, marriage and issues of faith," Land told CNN recently, describing political similarities between Hispanics and white Southern Baptists. "I'm concerned about being perceived as being unwelcoming to them."
3. The Rev. Samuel Rodriguez, President, National Hispanic Christian Leadership Council. Rodriguez leads the country's largest Hispanic evangelical group and has credibility with Christian Right leaders because of his anti-abortion and anti-gay marriage advocacy. He has recently partnered with the dean of Liberty University Law School, Mat Staver, in a bid to convince conservative Christian groups like Focus on the Family to get behind comprehensive immigration reform.
4. Bill Hybels, Senior Pastor of the 12,000-plus member Willow Creek Community Church located in Northwest-suburban Chicago, Illinois, one of the country's largest congregations. A prominent evangelical moderate, Hybels was a spiritual advisor to President Bill Clinton.