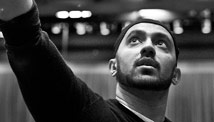 Editor's note: Imam Khalid Latif is a chaplain for New York University and Executive Director of the school's Islamic Center.
By Khalid Latif, Special to CNN
I was recently eating dinner at a restaurant with a friend near Times Square when it became time for me to pray. Muslims pray five times a day and this particular prayer, called Maghrib, is performed at sunset.
Having lived in New York City for decades, I've become comfortable praying pretty much anywhere. It also doesn't hurt that there are stranger things happening on the streets here than a young guy bowing and kneeling for a few minutes.
After I started to pray, a tour bus parked in front of me and a large group of people proceeded to spill out.
While I continued, a woman from the group came closer to where I was praying. She removed a scarf from her neck, placed it on the ground so that I would be praying on something clean, then walked away before I finished.
A truly amazing woman whose name I don't even know. But if I had not felt comfortable being myself and praying on the street, I would never have had the opportunity to learn from her.
It's not easy fitting in. Whether you're 15 years old or 55, most of us have to compartmentalize our identity in order to feel accepted. We let go of things that we hold dear in hopes that we can just belong and in doing so we assume the worst of the people around us. We think that they wouldn't be able to understand and accept us for who we are.
A year ago this week, more than 80 faith-based, civil rights, community and labor organizations came together under the title Coalition for Muslim School Holidays. Our purpose was to encourage New York City to give permanent recognition to its Muslim community by adding two holidays observed by Muslims to the public school calendar: Eid ul-Fitr, which celebrates the end of Ramadan, the sacred month of fasting and Eid Ul-Adha, which celebrates the end of the Hajj, the yearly pilgrimage to Mecca.
New York's City Council convened to vote on the issue and almost unanimously passed resolution 1281, calling for the Department of Education to recognize the holidays. But Mayor Michael Bloomberg has decided that the holidays won't be added to the public school calendar
Yesterday, the Coalition for Muslim School Holidays held a late morning rally on the steps of New York's City Hall. Hundreds of people attended and even more stood at the gates waiting to get in—a 300 person limit had been placed on the gathering—as politicians, city officials, interfaith leaders and activists spoke from the steps telling Mayor Bloomberg why he should change his mind.
The expectation that people have of Muslims these days is pretty confusing. On one hand, Muslims are explicitly told they need to integrate Islam more effectively into mainstream society. On the other hand, Muslims are implicitly shown that can't really happen. The construction of our mosques is protested, our communities are profiled, and our children have to go to school on their holidays.
"One in every eight school kids in the City of New York observes the Muslim faith," New York City Comptroller John Liu said in a statement issued yesterday by the Coalition for Muslim School Holidays. "Yet these students are forced to choose between their education and their faith, and it's a situation that needs to be rectified."
In addition all the presidents of New York's five boroughs have sent letters of support to our coalition, while Public Advocate Bill de Blasio support the City Council resolution recognizing Muslim holidays.
"About 12 percent of New York City students are Muslim," says de Blasio, "and consequently thousands of students miss exams and important activities because they are scheduled on Muslim holidays. The Department of Education should treat these students equally and include the two main Islamic holidays in the school calendar, just as it does with other major religions."
It was a beautiful thing to stand amongst a diverse group of people yesterday in support of a cause that really goes beyond a holiday. I'm looking forward to the day that it's celebration—not contention—that brings us together. Who knows? Maybe it'll even be on Eid.
The opinions expressed in this commentary are solely those of Khalid Latif. Author photo courtesy Bryan Derballa.