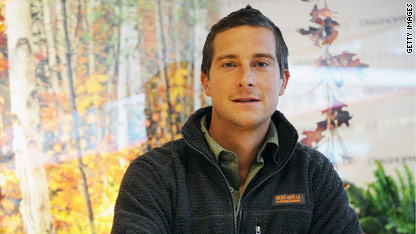 It takes guts to paraglide over the Antarctica, hike through remote jungles and eat yak eyeballs for dinner.
It also takes a little faith, according to a fun new profile of Bear Grylls, the star of Discovery Channel's Man vs. Wild adventure show in the evangelical magazine Relevant.
It turns out that Grylls, the appropriately-named star of the nature show, is a devout Christian.
Grylls told Relevent that he gets strength from God to take risks in nature. He says he sometimes feel as if he is "being held" when he is in the wild:
It's about being strengthened. It's about having a backbone run through you from the Person who made you. It's about being able to climb the biggest mountains in the world with the Person who made them.
Grylls says that as a young kid he never questioned God, that he knew God existed and "it felt like He was my friend."  He credits his faith for the durability of his family life with his wife and their three sons.
Grylls is also a big fan the Alpha Course, a 10-week class designed for spiritual seekers that explains the basics of the Christian faith:
I have seen many people find a simple faith through it and I want to encourage it because it's helped me a load.
Perhaps there is something about the wild that inspires belief.
The Bible is full of prophets having visions while they're wandering alone in the deserts. John the Baptist didn't eat yak eyeballs but he did eat locusts. The Prophet Mohammed received his revelation in a mountain cave. The Buddha received enlightenment under a bodhi tree.
What is it about the wild that sharpens some people's yearning for God?