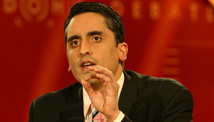 By Arsalan Iftikhar, Special to CNN
Editor's note: Arsalan Iftikhar is an international human rights lawyer, founder of TheMuslimGuy.com and legal fellow for the Institute for Social Policy and Understanding in Washington.
It is clearly stated in Article 5 of the U.N. Universal Declaration of Human Rights that, "No one shall be subjected to torture or to cruel, inhuman or degrading treatment or punishment."
Adopted in 1948 by the U.N. General Assembly, in addition to outlawing torture categorically, this international treaty was to be used as a common standard for international law and outlined - for the first time ever - fundamental human rights to be protected anywhere around the world.