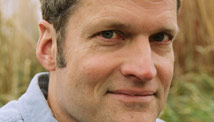 Editor's Note: Stephen Prothero, a Boston University religion scholar and author of "God is Not One: The Eight Rival Religions that Run the World," is a regular CNN Belief Blog contributor.
By Stephen Prothero, Special to CNN
If you want to tap into the religious spirit of a country, you can go to its churches and mosques and listen to the words of its preachers and imams. But the lived religion of a nation is just as accessible on the streets.
On my recent visit to Kenya, I saw lions and leopards lazing in the Samburu National Reserve and hyenas chomping on flamingo bones at Lake Nakuru, but my spiritual safari was equally intriguing. While touring through the highlands north of the capital city of Nairobi I saw religious fervor on hand-painted street signs ("El Shadai Dressmaker" and "Bismillah Butchery") and the ubiquitous minivan taxis known as matatus (nearly as deadly, I might add, as the crocodile).
Thanks to the rapid growth of the spirit-filled Christian style known as Pentecostalism, Christianity is running wild in Africa, expanding from 9 million to 355 million souls over the course of the twentieth century, and Kenya is no exception.
Here hand-painted signs in even tiny towns announce a half dozen options for Sunday morning worship services—from old stalwarts such as the A.C.K. (Anglican Church of Kenya) and the P.C.E.A. (Presbyterian Church of East Africa) to tin shack upstarts such as the "Maximum Miracle Centre" and the "Shekinah Power Camp; Love Church."
My favorite was "Jesus Winner Ministry," outside of Nanyuki in the Kenya Highlands, a micro-church packed on a Sunday morning with Kenyans singing praise songs and literally shaking the makeshift roof.
What really struck me, however, were the religious proclamations that bounced up and down the bumpy roads of Kenya, following me everywhere. In a country where it is not unusual for citizens to walk for miles to pick up or deliver a jug of milk, modes of transport are dear, and many come (like boats in America) with names or mottos. I saw trucks proclaiming "Allahu Akbar" ("God is Great") and "Rastas Never Die." 
But the overwhelming majority of these missionaries in motion were preaching the resurrected Christ. Images of Jesus (almost always white) were inescapable. I saw trucks called "Soul Winner," motorcycles affirming "In God We Trust," and a bicycle splash guard that said "Obey God." Matatus, the minivan cabs speeding everywhere in Kenya, were the favorite palette for proclaiming the gospel. One was called "Rapture." Others were named "God's Chariot," "Witness," and "Christitude."
The Kikuyu people of Kenya, the country's largest tribe, refer to Mount Kenya as "Where God Lives." That may be. But God lives too in the rush of wheels across sand and stone.
The opinions expressed in this commentary are solely those of Stephen Prothero.