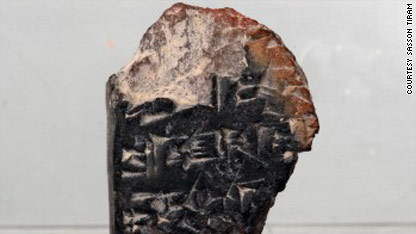 Archeologists have discovered an ancient clay chip that bears the oldest text ever found in Jerusalem, Israeli researchers said Monday.
The tiny clay fragment, dating back some 3,400 years, is covered with cuneiform script.
The clay fragment was discovered during an excavation of a tower built around the period of King Solomon, near the southern wall of the Old City of Jerusalem, The Hebrew University announced in a press release.
The fragment was written by a highly skilled scribe that probably prepared tablets for the royal house of the time, said Wayne Horowitz, a scholar of Assyriology at  Hebrew University Institute of Archeology, who helped decipher the script.