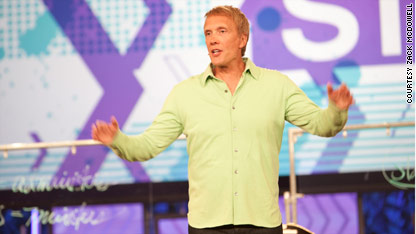 People listening to their pastor preach on Sunday morning may now ask a question that no one has ever asked before: Is this live or is this on tape delay?
More pastors are using high-def videos, and even holograms, to beam their Sunday morning sermons to remote "satellite" churches that belong to their congregation, as I detail in a story today.
They are pastors like Rev. Ed Young, senior pastor of Fellowship Church in Dallas, Texas. Young broadcast videos of his sermons from his "mother" church to other congregations in Texas and even one in Florida.
Young says he doesn't think parishioners who watch his video-projected sermons at other locations are being short-changed:
I don't think you lose a thing. I would argue you could see me better when you're at a venue made for screens.
Yet the Rev. Thomas Long, a nationally recognized authority on preaching and author of "Preaching from Memory to Hope," says something is lost when preachers beam in their Sunday morning sermons:
There's something about embodiment - that the person who delivers the sermon is actually there - that's important. It's important in the same way that someone physically visits someone in a hospital or buries a loved one - they don't fax it in.
We live in a culture that's becoming more visual. Are pastors like Young just taking advantage of existing technology  or is there something vital about a pastors being physically present when they preach?