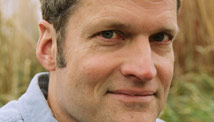 Editor's Note: Stephen Prothero, a Boston University religion scholar and author of "God is Not One: The Eight Rival Religions that Run the World," is a regular CNN Belief Blog contributor.
By Stephen Prothero, Special to CNN
I love New York, and I love the idea of a mosque at Ground Zero.
What began as a local question concerning the construction of an Islamic community center and mosque a few blocks from Ground Zero has morphed over the last few weeks into a statewide, national and international question — a hot potato in New York's gubernatorial race, fodder for culture warriors on American talk shows, and a concern to moderate Muslims worldwide.
To those who are exploiting this issue for purposes of politics or ratings, I have nothing to say. Neither will I comment on cynical efforts to endow the building, a former Burlington Coat Factory, with the protection of landmark status, or even more cynical efforts to stir up fear of Islam through one of the most hateful ads ever proposed for television. But I sympathize with the anguish and anger of those who lost loved ones on 9/11 and who do not want to see a mosque built anywhere near what they see as sacred ground.
I am convinced, however, that all these efforts are wrong — wrong for the United States and wrong for New York City.
Two years ago I watched a performance by New York City's Clare Byrne Dance Company called "Kneelings." It featured four dancers, walking west to east across 23rd Street, from the Hudson to the East River, and kneeling every block or so along the way.
The performance was beautiful, animating a Lower Manhattan morning with the postures of prayer and reminding me that something quiet and beautiful can always break out even in the busiest of places.
What really struck me, however, was the live-and-let-live attitude of New Yorkers. Some people stopped to ask what was going on. Others followed the festivities for a block or two. But most just walked on by. And no one bothered to judge.
That is because, at its best, New York City is a place where people are free to be their own idiosyncratic selves, to do their own idiosyncratic things and to hallow whatever they find holy, even in a space as public as a Fifth Avenue sidewalk.
New York City is where people come when they are tired of being judged for being gay or Sikh or brown or green. In New York, if you want to raise your hands on a street corner and proclaim the lordship of Jesus or the glories of hot yoga, go right ahead. If you want to walk across 23rd Street kneeling every few blocks, more power to you.
After 9/11 there was lots of talk about not letting the terrorists change us. Some of that talk was shortsighted. We should have taken the terrors of that day as a wake-up call to slough off our dependence on foreign oil, for example. But we were right to vow not to let the terrorists change America or its core values.
One of those core values is religious tolerance. To be sure, Americans have failed repeatedly to live up to this value. In the name of Puritan orthodoxy, we banished Anne Hutchinson from the Massachusetts Bay Colony in 1638. In the name of Protestant America, we burned down a Roman Catholic convent in Charlestown, Massachusetts, in 1834. But the arc of freedom bends here toward more religious liberty, not less.
The key question underlying the Ground Zero mosque debate is whether Americans are at war with Islam — whether the so-called clash of civilizations between the Christian West and the Muslim world is something we are trying to avoid or something we are trying to provoke.
If Islam is the enemy, then we should not stop at prohibiting the Cordoba Initiative from constructing a mosque within its Islamic community center in Lower Manhattan. We should outlaw new mosques from Cape Cod to Southern California. We might even be justified in rounding up all American Muslims and putting them in internment camps as we did with virtually all Japanese-American Buddhists during World War II.
But if the enemy is terrorism, then we should realize that we only incite and inspire that enemy when we act as if we are at war with Islam.
Since 1654, when Jews first arrived as refugees from Portuguese rule in Brazil, New Amsterdam (as New York was then called) has been a model of thriving religious dissent. Today the five boroughs form one of the world's most religiously diverse urban areas. Queens alone boasts over 200 houses of worship, including 30 Buddhist temples, seven Hindu temples, six Jewish synagogues, four Muslim mosques and two Sikh gurdwaras.
Opponents say the Cordoba Initiative mosque and community center, which would rise two blocks from Ground Zero, is too close to that site. I say it is too far away. I believe a small mosque ought to be integrated into the redesign of the World Trade Center site itself — a reminder in steel and stone that the United States is not at war either with Islam or with our core values.
Meanwhile, we should forge ahead with the proposed project. I understand there are concerns about the size and funding of the proposed 13-story, $100 million complex. But we cannot let the terrorists undermine the values of the United States, or the live-and-let-live character of New York City.
If this mosque is toppled before it is built, the terrorists win again. If it is built, America wins. So does New York City.
The opinions expressed in this commentary are solely those of Stephen Prothero.