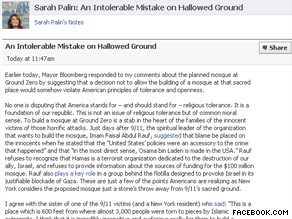 Social networking giant Facebook said Thursday that it is investigating the deletion of a post by former Alaska Gov. Sarah Palin that sounded off about plans for a mosque near Ground Zero in New York City.
Facebook is looking into "this incident to determine why and how the content in question was removed," spokesman Andrew Noyes said in a statement provided to CNN.
Palin re-posted the Facebook "note" Thursday morning. In the re-posted version, Palin responds to New York City Mayor Michael Bloomberg who was, in turn, responding to earlier comments by Palin about the planned mosque.