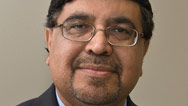 Editor's Note: Naseem Mahdi is national vice president and missionary in charge of the Ahmadiyya Muslim Community USA.
By Naseem Mahdi, Special to CNN
Last weekend, more than 6,000 Ahmadi Muslims gathered in Virginia for their 62nd annual convention. But with more than 2 million Muslims living in the United States, why should Americans care about the Ahmadiyya Muslim Community (the official name for Ahmadi Muslims) and their convention?
Americans should care because the community, whose membership exceeds tens of millions in 194 countries around the globe, is one of the leading movements in Islam to bring Muslims out of the dark ages — divesting them of the fanatical beliefs that have been the source of so much bloodshed and violence in the world today.
Our community was founded 121 years ago by Hadhrat Mirza Ghulam Ahmad (peace be on him) in Qadian, India. He claimed that he was the messiah and reformer foretold by Mohammed, the holy prophet of Islam, and reintroduced Muslims to the enlightening ideas of the original, true Islam.
Terrorism, both at home and abroad, is one of the biggest threats our country faces. And so-called Muslims who have hijacked Islam to spread a message of hate and fear are at the root of this threat.
While the majority of Muslims in the world are moderate and peace-loving, the ideology espoused by some of their clerics is not. In fact, many American-Muslim conventions and mosques regularly promote the literature of extremist ideologues such as Abul Ala Maududi and Syed Qutb, the godfathers of the modern revival of Muslim extremism.
"Islam," wrote Maududi, "wishes to destroy all states and governments anywhere on the face of the earth which are opposed to the ideology and program of Islam regardless of the country or the nation which rules it."
Like Maududi, Qutb divides the world into the Muslims and infidels: "Islam cannot accept or agree to a situation which is half-Islam and half [non-Islamic]." Both emphatically espoused jihad as a means of conquering and subduing "infidels." Both sanctioned death for blasphemy or apostasy.
It is this frightening rhetoric that propels fanatics around the world to commit terrorist acts in the name of Islam. To defeat this ideology, Muslims need to preach a better one in its place — by returning to the original teachings of Islam. For the last 121 years, the Ahmadiyya Muslim Community has been doing exactly that.
The Ahmadiyya Muslim Community argues that secularism is an Islamic doctrine. It recognizes that the Quran mandates Muslims accept the most capable person as their ruler, irrespective of faith. And once appointed, Muslims must obey whoever the ruler is. Ahmad's instructions are derived directly from Prophet Mohammed: "You should listen to and obey your ruler even if you [despise him]." A separation of mosque and state, therefore, is necessary.
And while Ahmadi Muslims consider dissent to be permissible, spreading any type of discord is absolutely anti-Islamic. Finally, the Quran instructs Muslims to be grateful for any benefit they receive. Thus it is anti-Islamic and hypocritical for any Muslim to enjoy the advantages of living in America and create any sort of chaos or disorder.
The Ahmadiyya Muslim Community personifies this ideal every day. Despite enduring decades of state-sanctioned persecution in the Middle East and South Asia, members of the Ahmadiyya Muslim Community have never once been guilty of retaliation. Under benevolent non-Muslim governments, their loyalty and adherence to the rule of law is no less prevalent.
Ahmad also clarified the meaning of jihad. Responding to those who call for an aggressive jihad to spread Islam, Ahmad argued:
Those who hold such views are not the friends of Islam but its deadly foes … The religion that can easily establish its truth and superiority by sound intellectual arguments, heavenly signs or other reliable testimony does not need the sword to threaten men and force a confession of its truth from them. Religion is worth the name only so long as it is in consonance with reason. If it fails to satisfy that requisite, if it has to make up for its discomfiture in argument by handling the sword, it needs no other argument for its falsification. The sword it wields cuts its own throat before reaching others.
In accordance with these teachings, the Ahmadiyya Muslim Community categorically rejects any worldly punishment for blasphemy or apostasy. Had millions of Muslims followed our peaceful message during the Danish cartoon controversy, there would have been no rioting or acts of violence.
In fact, a similar event took place in Ahmad's life, which offers a refreshing alternative to the views of today's orthodox Muslims. In 1898, a book insulting Mohammed met with cries of censorship from India's Muslims. Ahmad, in contrast, published a pamphlet arguing any such measure is un-Islamic. While deeply perturbed with the book's content, Ahmad urged Muslims to be patient and respond to the allegations with the pen. In fact, he reminded Muslims that Mohammed himself never punished any individual for blasphemy.
The message of the Ahmadiyya Muslim Community is what the Muslim world needs. The poisonous ideology spouted by Maududi, Qutb and their ilk can only be defeated by a superior ideology that draws its strengths from Islamic teachings. As long as Maududi and Qutb are championed as the standard-bearers of Islam, extremist sympathizers and incidents such as those that arose in Miami, Los Angeles, Alexandria and Manhattan will continue.
There are millions of Muslims in America. If even 1 percent succumb to extremist rhetoric, the consequences would be catastrophic. The late Iraqi al Qaeda leader Abu Musab al-Zarqawi ominously declared, "We are in a media battle ... for the hearts and minds of Muslims." Therefore, Americans should care about the Ahmadiyya Muslim Community — the superior, truly Islamic alternative to win hearts and minds.
The opinions expressed in this commentary are solely those of Naseem Mahdi.