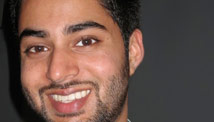 Editor's Note: Ravi S. Kudesia is founder of The Leadership Yoga and is an initiated student of Kriya Yoga.
By Ravi S. Kudesia , Special to CNN
Just over a week ago, regular Belief Blog contributor and religion scholar Stephen Prothero posted on the ills of the Indian caste system. In it, he places the burden squarely on Hinduism's shoulders. By doing so, he stepped into a centuries-old debate about the origins and future of the oppressive social institution.
The responses were impassioned, but hardly innovative. Most detractors argued that today's caste system has little actual basis in Hindu scripture. The hymn Prothero cited, the Purusha Sukta, comes from the Vedas–books so ancient that they're widely considered the oldest extant Indo-European texts.
The verse in question describes how various elements of our universe emerged from a cosmic being named Purusha. Priests were born of his face, leaders of his arms, merchants of his thighs, and so on. Thus, it clearly justifies the caste system, right?
Not exactly. The sun also came from his eyes, the earth from his feet, and the wind from his breath. So then perhaps the hymn is more about cosmology, suggesting the universe was not created ex nihilo, but from the very body of God himself. Whichever interpretation we prefer, the text itself leaves little room for certainty.
For this reason the debate has stalled–we are stuck in Purusha's riddle. In this sense, the Vedas are not alone. The same Quran that preaches no coercion in religion is used to justify violent religious coercion. The same biblical Book of Exodus that beautifully documents a people's liberation from bondage also suggests how many shekels to dish out for a slave and how hard that slave can be beaten after purchase. (Exodus 21:32, 21:20-21)
Ambiguous scripture is a breeding ground for contention. I often ask myself, "If any politico, bigot, or would-be terrorist can pick up a holy book of their choosing and manipulate it, what good are these texts?" And even if we could ask the authors of scripture about their "true meaning," would that stop all the discrimination? Most likely not.
So then where is our hope? Perhaps it lies in the coda to Purusha. If the Vedas are Hinduism's roots, then the Bhagavad Gita is its flowering. The Gita is the go-to book for living a meaningful life, taught by the charismatic avatar Krishna. He leaves little to interpretation when he tells us to make no distinction between the priest, the dog, and the outcaste who eats the dog. (Gita 5:18)
Yet he insists we not simply take his word for gospel – nor even take the gospel for gospel. Scripture, Krishna says, is beautiful in language, but mechanical in practice and ultimately more likely to distract than liberate. (Gita 2:42 – 2:46) Instead of emphasizing revelation, he brought the practice of yoga down from the monasteries into the realm of everyday life. Through yoga, he declares, we can experience universal love, truth, and God firsthand, without any ambiguity.
The stretches that we typically refer to as yoga are actually only a small part of the full practice. Krishna's method, called karma yoga, is about acting mindfully, with an attitude of loving service.
Perhaps a brief introduction to yoga psychology is in order. Krishna explains that humans possess two identities: a narrow self-image called the ahamkara and a deeper level of being called the Atman. The ahamkara is the source of all discrimination; its egocentric identity thrives on race, creed, and clan. The Atman, however, is universal; it is a single life force that beats equally in the heart of all creatures.
Yoga itself means "union" and refers to the process of merging the limited ahamkara into the limitless Atman. When this happens, discrimination of any kind becomes impossible. In Krishna's words, "Armed with yoga, one sees everything with an equal eye; a yogi sees the Atman in all beings and all beings in the Atman." (Gita 6:29)
Yoga does not teach us to love our neighbor. It teaches that we are our neighbor–that to hurt another is to actually hurt oneself. This high ideal was demonstrated definitively in the life of Mahatma Gandhi, who called the Gita his solace.
If the problem of caste is Hindu, so must be the solution. We cannot protest or litigate a better world into being. It is slow, ineffective, and decidedly un-Hindu. Krishna says that change comes about by individuals taking charge and inspiring others through their actions, not by filing petitions. (Gita 3:20 – 3:21)
Indeed, social transformation is nothing but personal transformation en masse. So instead of finding blame in the words of scripture or the pages of history, we must search inwards for our own prejudices and fears. They are the culprits, not Purusha.
India has amazed the world with its economic maturity into a veritable global power. To be complete, it must now grow into its full potential as a spiritual exemplar. Hinduism still has work to do. Yoga may be the perfect tool for the job.
The opinions expressed in this commentary are solely those of Ravi S. Kudesia.