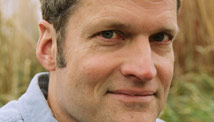 Editor's Note: Stephen Prothero, a Boston University religion scholar and author of "God is Not One: The Eight Rival Religions that Run the World," is a regular CNN Belief Blog contributor.
By Stephen Prothero, Special to CNN
How's this for a new argument against your local Islamic community center?
According to Ron Ramsey, Tennessee's Lieutenant Governor and a candidate for the Republican gubernatorial primary, Islam, the world's second largest religion, may not be a religion after all.
As in New York, a proposal for a local Islamic center has become a state-wide campaign issue in recent weeks in Tennessee, where certain Republican candidates in various primaries are trying to outdo each other for the fear vote by denouncing a recently approved expansion of an existing Islamic center in Murfreesboro.
In a June statement on her web site decrying what she referred to as an "Islamic training center," Lou Ann Zelenik, a Republican candidate for U.S. Congress in Tennessee and a Tea Party favorite, argued that the center "is not part of a religious movement; it is a political movement."
Now Lt. Gov. Ramsey has taken that logic one step deeper into the muck and mire, arguing that Islam may only be masquerading as a religion.
In a video of a recent stump speech posted by the Nashville Scene, Ramsey responds to a question about the "threat that's invading our country from the Muslims." Though he is careful to give a nod to the First Amendment (and, for good measure, the Second and Tenth), he says that our Constitution's free exercise guarantees may not apply to Islam because it may be a "cult" rather than a "faith."
"I'm all about freedom of religion," Ramsey explains.  "But you cross the line when they try to start bringing sharia law here to the state of Tennessee."
But who is really crossing the line here?
Apparently, Ramsey, who began his pitch with a paean to "this free country," believes that the free market does not apply to religion, or at least not to religions that do not meet with the approval of elected officials like himself. Which leads me to wonder, first, whether Christianity really is so weak in Tennessee that it needs the coercive power of the government to maintain itself, and, second, whether the commitment to limited government of Tennessee's Republicans is so thin that it does not require the state to stay out of our individual decisions concerning where (and whether) to pray, and to whom.
The sign marking the site of the Islamic Center of Murfreesboro has been vandalized at least twice in the last six months. But as this latest round of faith-baiting moves to new venues and descends to new lows, we are vandalizing our Constitution too.  I hope voters in Tennessee are quick to repair the damage, both to the sign and to the Constitution.
The opinions expressed in this commentary are solely those of Stephen Prothero.