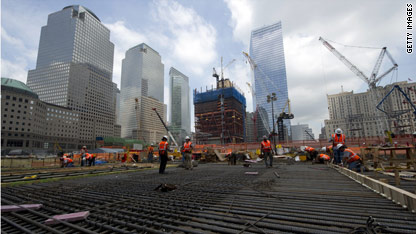 The Anti-Defamation League this week announced its opposition to a proposed mosque and community center at Ground Zero - a decision that is already provoking anger. On Friday, the Council on American-Islamic Relations (CAIR) asked the ADL to retract its Wednesday statement:
"It is shocking that a group claiming to seek 'justice and fair treatment for all' would side with those engaged in one of the most egregious Islamophobic smear campaigns in recent memory," said CAIR National Executive Director Nihad Awad. "We ask the ADL to reconsider and retract this ill-considered and divisive statement. With its shameful statement, the ADL is exploiting and fueling the rising level of anti-Islam sentiment in our society."
A proposal to build a mosque near the site of Ground Zero, where the World Trade Center's twin towers were destroyed by Islamist hijackers on September 11, 2001, has triggered debates for the past two months.
Critics said building a mosque near Ground Zero would insult the victims of 9/11.
Supporters, like CNN Belief Blog contributor Stephen Prothero, said accepting the mosque would demonstrate religious tolerance and send a message that the U.S. is not at war with Islam.
Here's Anti-Defamation League's rationale:
The controversy which has emerged regarding the building of an Islamic Center at this location is counterproductive to the healing process. Therefore, under these unique circumstances, we believe the City of New York would be better served if an alternative location could be found.
At the same time, the ADL condemned those who opposed the proposed mosque out of religious bigotry:
Proponents of the Islamic Center may have every right to build at this site, and may even have chosen the site to send a positive message about Islam. The bigotry some have expressed in attacking them is unfair, and wrong. But ultimately this is not a question of rights, but a question of what is right. In our judgment, building an Islamic Center in the shadow of the World Trade Center will cause some victims more pain – unnecessarily – and that is not right.
Plum Line blogger Greg Sargent criticized the decision:
That's just amazing. This is basically a concession that some of the opposition to the mosque is grounded in bigotry, and that those arguing that the mosque builders harbor ill intent are misguided. Yet ADL is opposing the construction of the mosque anyway, on the grounds that it will cause 9/11 victims unnecessary "pain...

On this one, you're either with the bigots or you're against them. And ADL has in effect sided with them.