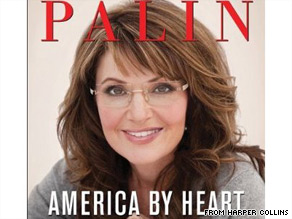 Pretty faithy, according to three details in today's CNN Political Ticker post about new information Harper Collins has released about the book:
1. The title: "America by Heart: Reflections on Family, Faith and Flag." (OK, we knew that already.)
2. Harper Collins says the new book "ranges widely over American history, culture, and current affairs, and reflects on the key values - both national and spiritual ... " (That's new information.)
3. The publisher says that sermons will be among the book's inclusion of "selections from classic and contemporary readings that have moved her." (Again, new info.)
Publication date is November 23.