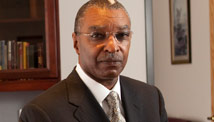 Editor's note: The Rev. DeForest "Buster" Soaries, Jr. is the senior pastor of First Baptist Church of Lincoln Gardens in Somerset, New Jersey. He is featured in CNN's "In America" documentary "Churched," which premieres October 14. This is the first of a weekly series of "Pulpit" pieces that will explore faith and the black community.
By the Rev. DeForest Soaries, Jr., Special to CNN
It cannot be denied that African-Americans have made tremendous progress - and one of the most significant factors that contributed to black success and survival has been our faith in God.
The manifestation of that faith is the religious community, which consists mostly of Christian churches that have produced positive spiritual, social, economic and political results for black America.
The question is whether black churches can continue to be the instruments of empowerment that they historically have been.