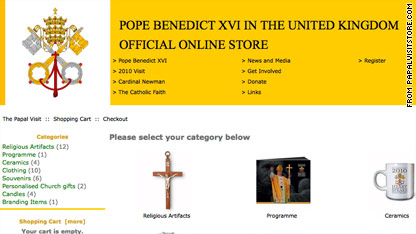 LONDON, England (CNN) - Pope baseball caps, pope key-rings, pope tote bags, beatification T-shirts and more went on sale Tuesday, as the official online store for Benedict XVI's visit to England and Scotland opened.
Papalvisitstore.com stocks about three dozen items, including customizable T-shirts (20 British pounds, or about $32) and the official souvenir program (10 pounds, or about $16).
Profits from the store will go to cover the cost of the visit, the organizing committee said.
The pope is due to visit Great Britain from September 16-19. It will be the first visit to the country by a pope since John Paul II in 1982.
The organizing committee for the visit seems concerned about the possibility of pirated memorabilia, warning in its press release: "The appointment of an official merchandiser early on in the project will help to reduce the opportunity for piracy and bootleg memorabilia. Only proceeds from official sales fund the papal visit."
Merchandise will also be available at some of the pope's larger events, visit coordinator Msgr. Andrew Summersgill said.