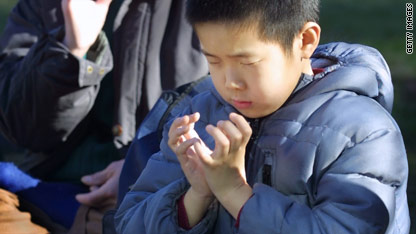 Anyone who's had to watch a hyperactive kid may have asked for divine help at one time or another. Now there's another resource to calm unruly children: Spiritual Ritalin.
In an intriguing article titled "The Child-Meditation Miracle" in the Daily Beast, Gwynee Watkins  says more meditation centers have been answering a growing demand by frazzled adults who want to teach meditation to agitated kids: 
Merriam-Webster defines the act of meditating as "to focus one's thoughts on, reflect on, or ponder over." Which means that the definition of the opposite of meditation might be: to be a toddler. But some parents are embracing the idea that meditation can calm their rambunctious young children. For holistically minded moms and dads, it's like a dose of spiritual Ritalin.
A child and family psychologist told Watkins that not all kids will be able to meditate, but many can learn breathing techniques that will help them maintain control.
For parents who don't know where to start, Watkins points to a website, AnmolMehta.com, that offers instructions.
Watkins taught basic meditation techniques to her 2-year-old son, who she described as a "human tornado."
And the more I do it, the more effective it's likely to be. Young children love ritual and repetition - hence "circle time" at the beginning of preschool, or the fact that Sesame Street always ends with 15 minutes of Elmo. The value of meditation is getting children familiar with the feeling of being still and quiet, if even for a moment, until it becomes a habit.
Her son may not  close his eyes and contemplate the nature of existence,  but Watkins says he has stopped leaping from the furniture.