CNN producer Ross Levitt filed this report from an upstate New York church that lost a congregant in last week's attack on aid workers in Afghanistan: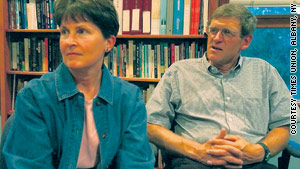 More than 400 people gathered Sunday at Loudonville Community Church in Loudonville, New York, to honor Tom Little (pictured with wife Libby), an optometrist who was among 10 people in a medical team killed by gunmen in northeastern Afghanistan.
"Four weeks ago, Tom Little stood right here," an emotional Stan Key, senior pastor, told the congregation.
The church had printed Wednesday in its weekly worship guide, "Praise the Lord that Tom's ministry in conducting outpatient clinics ... in a remote village was successful. God protected Tom and his team."
Key said he decided to leave it in the guide even after hearing the news of Little's death.
"We were personally impacted... we're talking about martyrdom here," Key added.
Dr. Tom Hale, a medical relief worker himself, told the crowd Little's death was not in vain. "This was not a waste," he said emphatically. "This is an enormous loss. Many of us are angry."
He said the people in the village Little visited begged him to go there.
Hale's voice choked with emotion as he asked for prayer for "this intense and shocking loss."